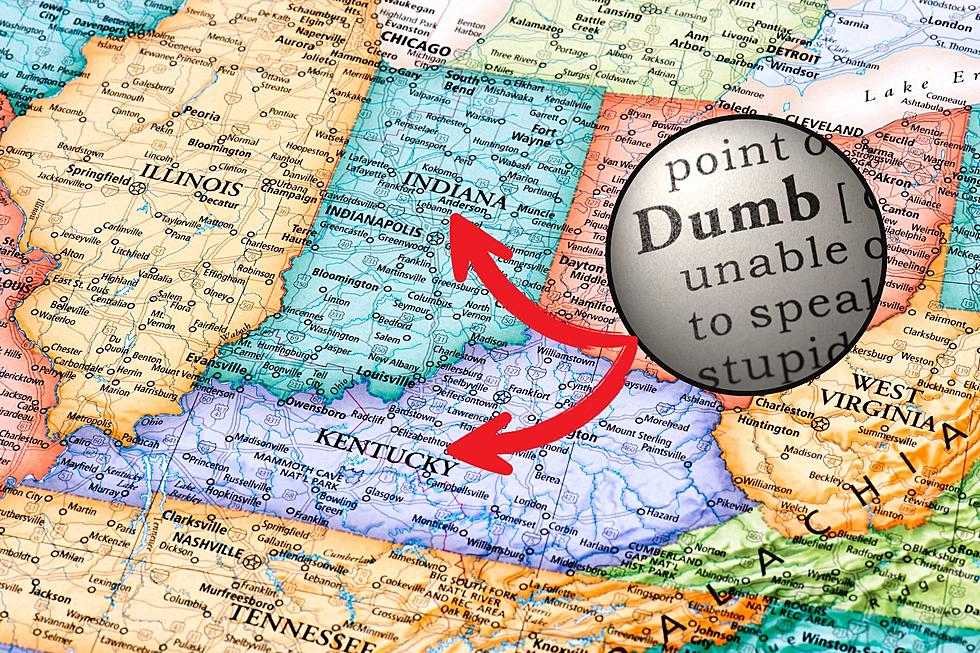 Indiana & Kentucky Rank Among the Dumbest States in America
Canva
Somehow, Indiana and Kentucky both found themselves on a list that neither state really wanted to be on.
As someone who has lived in both Indiana and Kentucky, I am used to the people, environment, and customs that we all grew up around. Like with anywhere, you have your people who are very bright...but then you have some who would never be the brightest crayon in the box. I can't tell you how many times I have said to myself when interacting with people "Common sense really isn't that common anymore."
While I belive that's true, I would never belittle someone just because they might not be all that smart. I mean Forrest Gump wasn't a smart man and everyone loves him! That being said, a website recently found the dumbest states in America. It may or may not come as a surprise to you that both Indiana and Kentucky made the list.
Indiana and Kentucky Two of the Dumbest States in America?
Now before anyone gets mad, don't shoot the messenger. I'm not calling Kentucky and Indiana dumb. The internet is. Sadly, when it comes to this list, someone had to make the cut, and unfortunately, Kentucky and Indiana were found guilty of being dumb. Look, I'm sure you're probably not too happy that you're on the list, I'm not either. The big question here is what makes these states some of the dumbest in America?
USA By Numbers, released a list of the 11 Dumbest States in America recently. Before we get into where Kentucky and Indiana landed on the list, it's important to know the methodology of a ranking like this because being called "dumb" isn't something that people take lightly, nor should they. According to USA By Numbers:
Mostly, the lists are made on the basic of the academic achievements or the level of education the citizens of the state has got. Not just on the educational grounds, studies have shown that states with more graduates and educated people tend to have less number of people living below the poverty line.
This continues as a spiral method as that leads to more jobs and opportunities in the state and more people realizing the importance of education. 
Coming in at number six on this list is Kentucky. The reasoning behind this is because of Kentucky's poverty line. Is there a cooralation between being poor and dumb? I believe that question can be met with some debate. Saying that because Kentucky has a lot of people living in poverty doesn't mean that those people are dumb. So, based on their "data," I have to disagree.
Indiana falls not too far behind Kentucky at number eight on the list. Once again, USA By Numbers claims that the poverty rate "drags the state to one of the dumbest states in the US."
I have a hard time accepting these results soley based on poverty rate. I'm going to need more hard hitting data to support these findings to accept that Kentucky and Indiana are among the dumbest states in the country. I understand that states with high numbers of lower-income families generally have lower-quality education systems and fewer people who can attend college. However, you can come from no money at all and still be intellegent. For a ranking like this, give me  IQ scores, SAT scores, ACT scores, and the percentage of college graduates in each state. Then let's see where Indiana and Kentucky rank. But don't call people dumb because they don't come from money. Some of the brightest minds in the world came from a poor upbringing. If they would have given more data to support their findings, I might be more inclinded to somewhat agree, but that wasn't the case here.
That's just my opinion on this list. Would you agree or disagree? To check out the list in full, you can click here.
LOOK: Best public high schools in Indiana
LOOK: Best public high schools in Kentucky
LOOK: Where people in Indiana are moving to most
Stacker
compiled a list of states where people from Indiana are moving to the most using data from the U.S. Census Bureau.