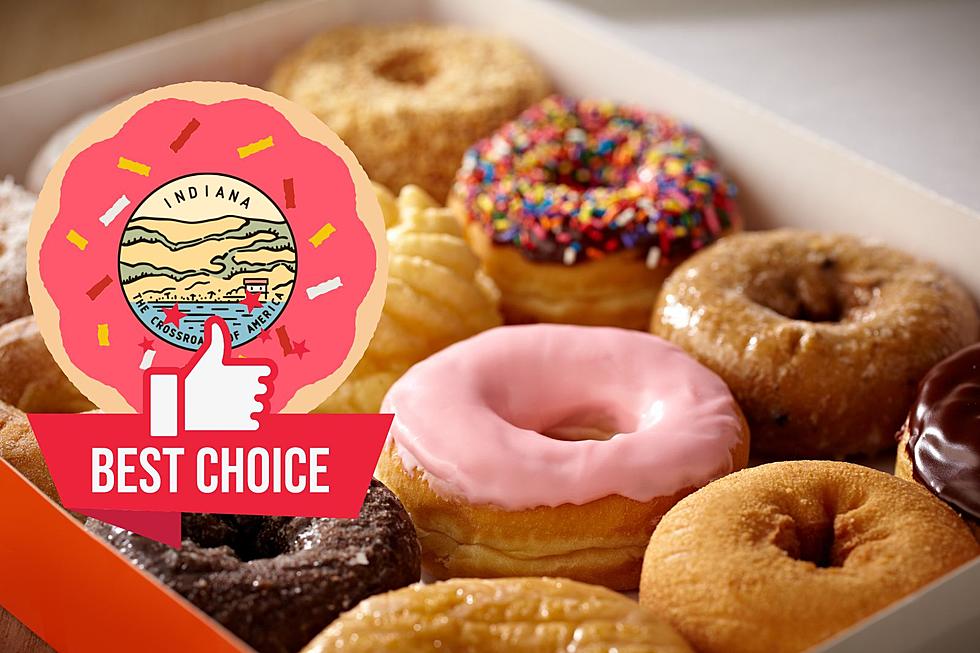 Apparently, This Bakery Serves The Best Doughnuts In Indiana
Canva
Who doesn't love a delicious doughnut, right? There are so many options to choose from, especially at the bakery named the best for doughnuts in Indiana.
Everyone knows somebody who is a sucker for a doughnut. Whether it be an original glazed, long john, tiger tail, iced cake, bear claw, Danish, or cream filled, you can't go wrong with doughnuts. Just thinking about them makes me want to grab a dozen and eat all by myself. We know that there are a lot of different bakeries here in Indiana that serve up delicious and fresh doughnuts every day. That being said, where in Indiana can you go to get the best doughnuts in the state?
The Best Doughnuts in Indiana
Recently, the website Mashed, recently found the best place to get doughnuts in each state. They did so by combing over reviews, weighing personal recommendations, tracking down award winners, and, of course, taste-testing donuts. And we're not talking about the big chains like Krispy Kreme and Dunkin', no. These are all locally owned doughnut shops.
When it comes to Indiana's best doughnut shop, Mashed says that Titus Bakery and Deli is the place to go.
Titus Bakery and Deli is the home of Indiana's finest donuts. They have three locations in the state and a long list of donuts on their menu. The best donut of the bunch is the award-winning Peanut Butter Fluff Long John. This bad boy is covered with rich chocolate icing and pieces of peanuts, and it has a fluffy center that's flavored with peanut butter. If you love peanuts, you would struggle to find a superior donut anywhere in the United States.
Looking at the Titus Bakery menu, I found quite a few doughnuts that look delicious. If I'm going there, I will definitely be ordering the Pershing, Honey Bun, and the Maple Bacon Long John. They all look amazing! Oh, and don't get me started on that Doughnut Pudding!
You can learn more bout Titus Bakery and its locations in Indiana by clicking here. If you are curious about where to find the best doughnuts in the other states, you can see that full list here.
Life's A Beach At This Giant Indoor Ocean Playground In Indianapolis
You don't have to travel to the coast for the family to get a taste of the ocean. There's a little piece of fun ocean paradise in Indianapolis for your kiddos to enjoy.
30 Bizarre (and Real) Indiana High School Mascots
According to
High School.com
, there are 682 high schools in Indiana. 555 of those are public schools, while the remaining 127 are private. A majority of those schools have chosen typical mascots to represent them, like eagles, tigers, lions, jets, patriots, and so on and so forth. But, these 30 schools decided to go, well, a different direction.
15 of the Most Beautiful County Courthouses in Indiana
There are a total of 92 county courthouses in the state of Indiana. I have determined (it's just my opinion) that these 15 are the most beautiful. There is no way I could or would rank them, so here they are in alphabetical order.