Unsplash
It's the most wonderful time of the year, but also one of the most hazardous to be out on the roads. In 2021, these ten states are the most dangerous for drivers this holiday season.
As fall turns to winter, there's more than just cold weather and holiday cheer on the horizon. As millions of Americans plan to make the trek to be with family and friends for Thanksgiving, Christmas, and other celebrations — often racking up many miles along the way — the roads are bound to be even busier than normal. Unfortunately, the seasonal spike of drivers logging long hours on the road, plus the "spirited" nature of many holiday gatherings, leads to increased dangerous driving incidents like collisions, speeding, and intoxicated driving.
According to the National Safety Council, holiday driving has the highest fatality rate of any major form of transportation based on fatalities per passenger mile. The combination of winter weather conditions, higher overall traffic, and the greater likelihood of alcohol impairment and other driving distractions spells trouble on the roads during the holiday season. To help drivers prepare to hit the road this year, the research team at Insurify crunched the numbers to determine the most dangerous states for driving in 2021.
Methodology
The researchers at Insurify, an auto insurance comparison site, referred to their database of over 4 million car insurance applications to determine the most dangerous states for driving in 2021. When applying for car insurance, users disclose their state of residence and any prior moving violations on their driving record within the past seven years. Across all 50 states, Insurify's research team calculated the proportion of drivers with one or more of the following violations: speeding tickets, at-fault accidents, and DUIs. The ten states with the greatest shares of drivers with these violations on record were selected as the most dangerous states to drive in.
The findings in this article represent statistical trends found in Insurify's database of over 4 million car insurance applications. The findings of this study are not meant to imply the direction nor necessarily the existence of a causal relationship. Rather, this is a presentation of statistical correlations of public interest.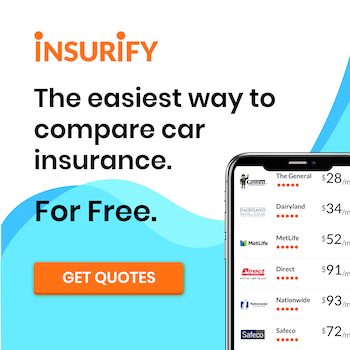 Most Dangerous States for Driving (2021)
1. Ohio - Driving infraction rate: 29.66%
2. Iowa - Driving infraction rate: 27.95%
3. Nebraska - Driving infraction rate: 27.83%
4. Wisconsin - Driving infraction rate: 27.53%
5. Virginia - Driving infraction rate: 26.68%
6. South Carolina - Driving infraction rate: 26.33%
7. Maryland - Driving infraction rate: 25.63%
8. Alaska - Driving infraction rate: 25.60%
9. Colorado - Driving infraction rate: 25.35%
10. Wyoming - Driving infraction rate: 25.34%
10 States with the Most Dangerous Drivers, 2021
10. Wyoming
Drivers with at least one dangerous infraction on record:

25.34%
Drivers with a speeding ticket:

12.36%
Drivers with an at-fault accident:

10.03%

Drivers with a DUI violation:

4.18%
9. Colorado
Drivers with at least one dangerous infraction on record:

25.35%
Drivers with a speeding ticket:

12.99%
Drivers with an at-fault accident:

10.60%

Drivers with a DUI violation:

2.62%
8. Alaska
Drivers with at least one dangerous infraction on record:

25.60%
Drivers with a speeding ticket:

12.64%
Drivers with an at-fault accident:

9.67%

Drivers with a DUI violation:

2.75%
7. Maryland
Drivers with at least one dangerous infraction on record:

25.63%
Drivers with a speeding ticket:

10.49%
Drivers with an at-fault accident:

12.97%

Drivers with a DUI violation:

1.40%
6. South Carolina
Drivers with at least one dangerous infraction on record:

26.33%
Drivers with a speeding ticket:

13.26%
Drivers with an at-fault accident:

12.90%

Drivers with a DUI violation:

1.32%
5. Virginia
Drivers with at least one dangerous infraction on record:

26.68%
Drivers with a speeding ticket:

14.34%
Drivers with an at-fault accident:

11.11%

Drivers with a DUI violation:

1.95%
4. Wisconsin
Drivers with at least one dangerous infraction on record:

27.53%
Drivers with a speeding ticket:

14.03%
Drivers with an at-fault accident:

9.79%

Drivers with a DUI violation:

3.07%
3. Nebraska
Drivers with at least one dangerous infraction on record:

27.83%
Drivers with a speeding ticket:

12.25%
Drivers with an at-fault accident:

13.03%

Drivers with a DUI violation:

3.95%
2. Iowa
Drivers with at least one dangerous infraction on record:

27.95%
Drivers with a speeding ticket:

15.54%
Drivers with an at-fault accident:

11.17%

Drivers with a DUI violation:

3.42%
1. Ohio
Drivers with at least one dangerous infraction on record:

29.66%
Drivers with a speeding ticket:

16.0%
Drivers with an at-fault accident:

13.05%
Drivers with a DUI violation:

3.22%
If you have any questions or comments about this article or would like to request the data, please contact