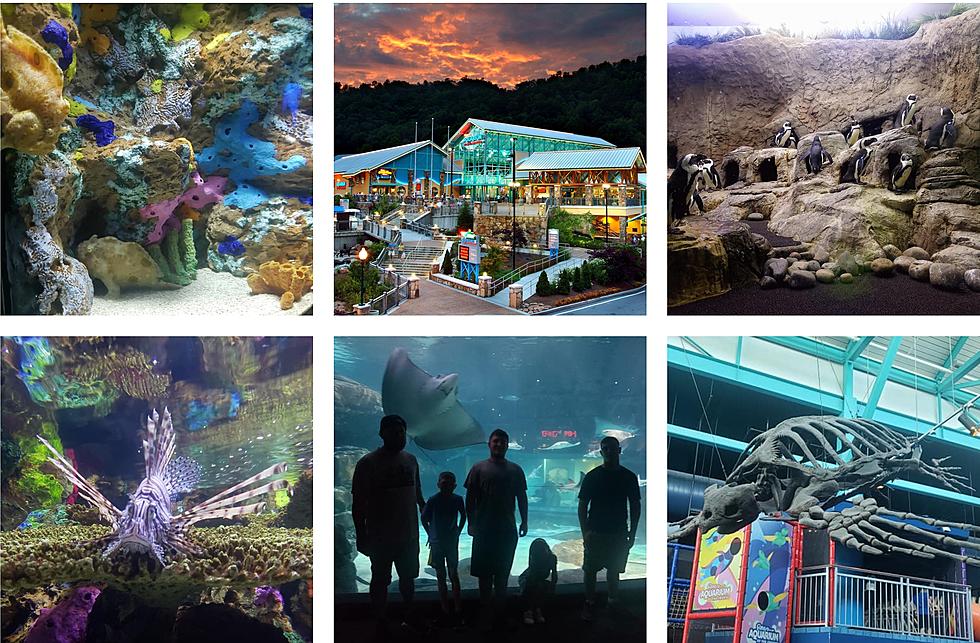 Top 3 Most Fun Things To Do at Ripley's Aquarium in Gatlinburg (GALLERY)
RIPLEY AQUARIUM/ANGEL WELSH
When vacationing in Gatlinburg it is a must that you visit Ripley's Aquarium.  Here are the Top 3 things our family enjoyed the most during our visit.
OUR FIRST VISIT TO AN AQUARIUM
Angel here and our family had never had the opportunity to visit an aquarium until this summer.  Not a single one of us.  We all left with sore jawbones from our mouths being open in awe the whole time.  It is an experience for the whole family whether you have young kids or teenagers.  Parker and Braden loved it just as much as Tuck and Charlotte.  Joe was mesmerized by the sharks and I loved seeing all the different varieties of fish.
PLAN YOUR VISIT
Get your tickets ahead of time.  The day we went we had already gotten our tickets and we were able to walk right in and start our tour.  The ticket line was a bit long and it was nice to cruise right past it.  You can order your tickets online and they can scan them right off your phone.  If you aren't able to do it until the day off you can literally pull up the ticket screen and buy them on your way to visit.  Make sure to eat before you go unless you plan on grabbing a snack inside.  It takes a good two to three hours to truly make the best of the whole experience.  They do have cafe food available inside for purchase.  If you want more than just the aquarium you can even get combo tickets to enjoy other Ripley's attractions in the Smokies.  We did and we loved it.
WHAT TO EXPECT
Expect to have an amazing time.  All four of my kiddos loved it.  They each had a favorite part.  Parker and Braden loved getting to touch the jellyfish and watch the sharks.  Tuck was amazed at all the different-looking fish especially the cowfish (see photo below).  Charlotte in true Charlotte fashion loved playing in the huge play area.
TOP 3 THINGS TO DO
It is all fun but make sure to do these things when you go:
Shark Lagoon-You literally step onto a moving belt and travel through a tunnel while sharks swim overhead.  You can watch sea turtles, tarpons, and even eels.
Stingray Bay-Stingrays are beautiful creatures.  They have three types of stingrays and when you're doing viewing them you can even get up close and personal.
Penguin Playhouse-These little guys are the cutest.  They move around without a care in the world and the best part is you have the naughty and nice list each day.  There was even a penguin named "Joe" and he was totally camera shy...GO FIGURE!
Take A Look Inside Ripley's Aquarium in Gatlinburg
When vacationing in Gatlinburg it is a must that you visit
Ripley's Aquarium.
Here are the Top 3 things our family enjoyed the most during our visit.
SEE: Have You Ever Heard of the Abandoned Amusement Park in Downtown Gatlinburg?
Gatlinburg is home to an abandoned amusement park and we have photos.
LOOK: Stunning vintage photos capture the beauty of America's national parks
Today these parks are located throughout the country in 25 states and the U.S. Virgin Islands. The land encompassing them was either purchased or donated, though much of it had been inhabited by native people for thousands of years before the founding of the United States. These areas are protected and revered as educational resources about the natural world, and as spaces for exploration.
Keep scrolling for 50 vintage photos that show the beauty of America's national parks.