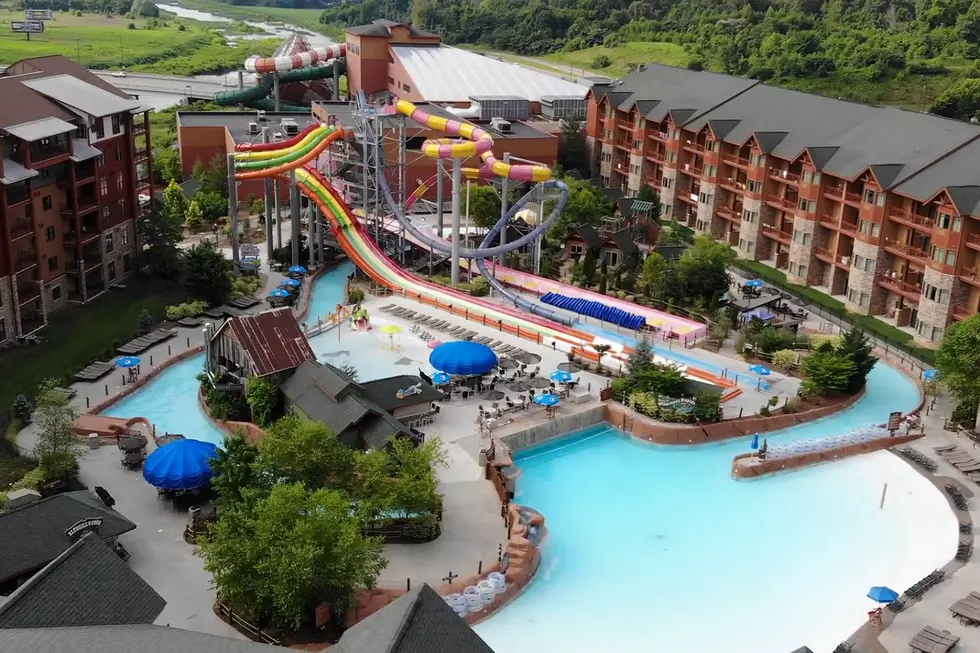 Dive Into the 'Wilderness' at This Massive Tennessee Water Park Resort [VIDEO]
jamiephillips123 via YouTube
After going through the house and changing all of our ceiling fans to the counterclockwise "summer" setting--anything to beat this crazy heat--I started fantasizing about being up to my neck in cool water. Any water, anywhere.
If I had the time, I'd drop everything and go on a tour of water parks in Kentucky, Indiana, and Tennessee and never pack anything but swim trunks.
WILDERNESS AT THE SMOKIES WATER PARK
BUT, since I don't have that kind of time, I can live vicariously through everything I've seen about Wilderness at the Smokies, yet another reason the Smokies are practically unbeatable as a vacation destination.
You just know east Tennessee will be packed over the next three months, even IF I somehow only equate that kind of trip with autumn. But of course, there's so much to do in the summertime, and I would imagine every city, town, community, or village rakes in the tourism dollars this time of year.
THE LARGEST INDOOR WATER PARK IN TENNESSEE
Located in Sevierville, Tennessee, Wilderness at the Smokies opened in 2008 and is an indoor/outdoor waterpark with as much to do INSIDE as there is to do OUTSIDE.
Rain or shine, snow or blistering heat, Wilderness at the Smokies has you covered...and quite literally, if the weather really ISN'T cooperating.
WHAT YOU'LL FIND INSIDE WILDERNESS AT THE SMOKIES
Nestled in the Great Smoky Mountains, Wilderness at the Smokies prides itself on being Tennessee's largest indoor waterpark, even IF half of it is outside. But it's more than just tons of family entertainment; there's also 200,000 square feet of meeting and convention space. And the resort offers 713 rooms, suites, and villas, plus lots of shopping and dining opportunities, too. And don't forget your golf clubs; there are 36 holes waiting for you at Wilderness at the Smokies.
Here's what you'll find inside:
WHAT YOU'LL FIND OUTSIDE AT WILDERNESS AT THE SMOKIES
And here are some of the thrilling attractions you'll find outside:
The outside temperature gauge on my car just said 102 degrees. At this point, I'm happy with being sprayed by the garden hose; I'm thinking I'd be ecstatic to the point of incoherence, right now, at Wilderness at the Smokies. In fact, I might forgo my rule against freefall attractions and ride the Wild Vortex, as long as it ends in water...and it does.
And you gotta have one of these. I could spend all day on Cataloochee Creek. "Yeah, never mind me. When you're done, you'll find me here."
AND THEN THERE'S NEIGHBORING SOAKY MOUNTAIN
And there is so much more. There's even a neighboring water park called Soaky Mountain.
I hope you're playing it safe during this heat wave. Maybe you're even thinking about how to get away from it. While that might be difficult considering what I've seen on recent forecasts, spending the day in the Smoky Mountains covered in cool water from head to toe STILL sounds like a great idea.
The Ultimate Smoky Mountain Vacation
Some of my favorite vacations have been to go spend time in Gatlinburg, and soaking in those Smoky Mountains. Here's the must-see sights and must-do activities so you get the most out of your next Gatlinburg vacation!
Smoky Mountain Cabin Has Swim In Movie Theater
Who doesn't love a getaway to the Great Smoky Mountains?
This cabin
has amazing views and its own private swim-in movie theater!
SEE INSIDE: Brushy Mountain State Penitentiary in the Smoky Mountains
Brushy Mountain was an operating prison for more than 100 years but has been a popular destination for tourists since its closure in 2009.