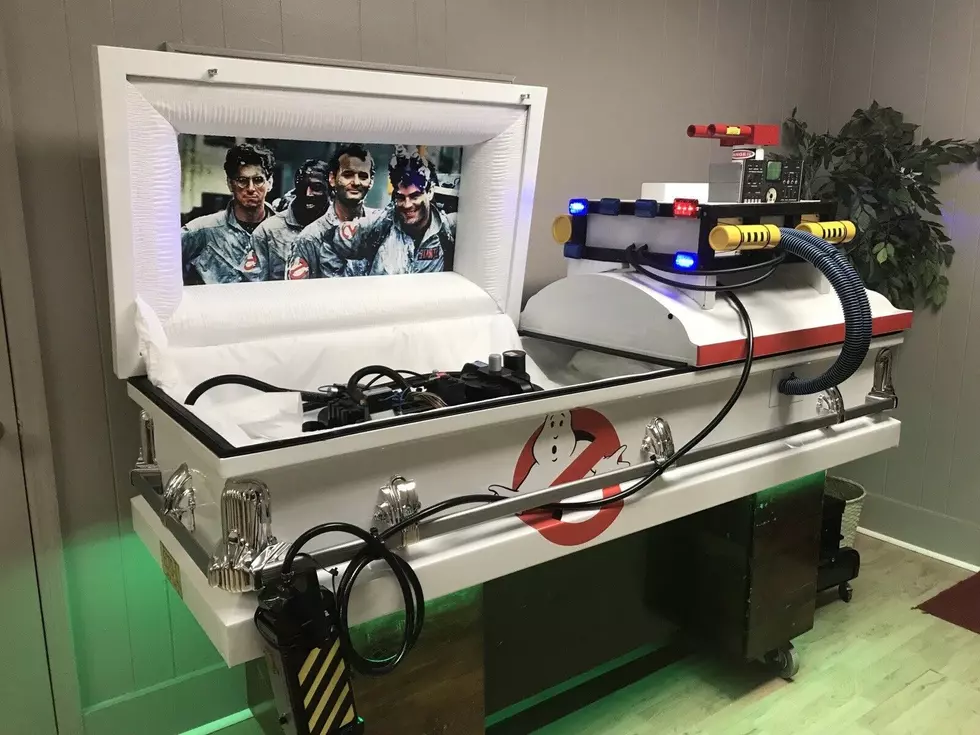 You Can Now Be Happily-Buried-After in a Hilarious Ghostbusters-Themed Casket
Ebay/Poison1Joe
If there's something strange in your neighborhood, who ya gonna call? . . .
Did you know there's now a Ghostbusters-themed casket that you can be buried in? Well, there is and, apparently, this is NOT a drill.
My good friend, P.j. Starks, who knows a thing or two about movies with ghosts and goblins, stumbled across pics of this thing online. The Ghostbusters casket is currently available on Ebay and will ship to your home (or the closest funeral home to you) for the low price of $5000, plus the cost of shipping.
Here are some pics of the casket. This thing is inspired!
P.j., who's the Owensboro-based co-creator and director of the Volumes of Blood film franchise, saw the casket and knew he wanted it.  The only catch? That slightly scary price tag.  He said, "I can ONLY hope to be buried in a $5K casket. That is a lot, but TAKE MY MONEY!"
As of this story, a couple of dozen people have been watching the item on Ebay.  It's currently listed by seller poison1joe in Hendersonville, TN.  The casket, from Nashville Casket Sales, is the ONLY one of its kind.
Here's the product description:
The Ghostbusters casket was created for promoting the Afterlife movie. It is a real casket! The light bar and rig art light weight and easily removed. Lights are magnetic and easily remove as well. It is our tribute to Ecto 1. The is a must for the die hard (pun intended) Ghostbusters fan. This is the only one.
By the way, if you don't want to pay the shipping costs (which I can't even imagine what that price tag would be), FREE local pickup is available if you want to road trip to Hendersonville.
If you want to see more pics of the Ghostbusters-themed casket and read more about it, you can check out the official Ebay listing by CLICKING HERE!
25 Scaredy Cat-Approved Halloween Movies