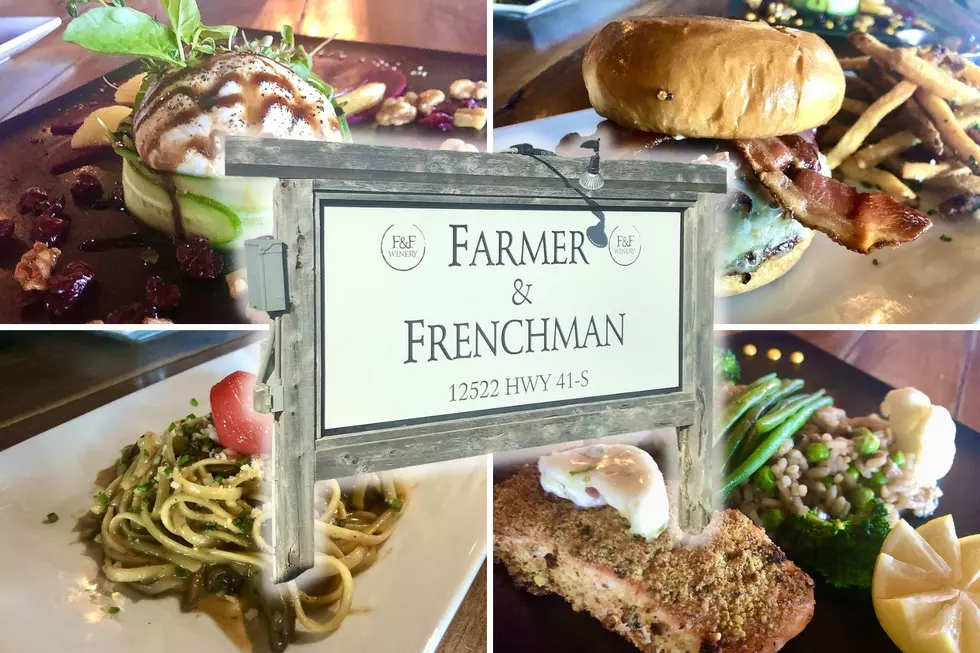 Enjoy a Fresh and Rustic Dining Experience at This Beautiful KY 'Farm to Table' Cafe [VIDEO, PICS]
Ashley Sollars/Townsquare Media; Canva
The Tri-State Bucket List began in 2014 as a way of shining the spotlight on locally owned restaurants throughout western Kentucky and southern Indiana. It began that year at the Island Dairy Freeze--a location we revisited in the summer of 2020.
While I've enjoyed showcasing local businesses, I've also reap a few benefits myself. Of all the eateries we've profiled, I'd say that at least half of them were recommended and were places I'd never before visited or even heard of. So I've expanded my horizons right along with you.
One restaurant that has been on my radar is an amazingly rustic "farm to table" establishment in Robards KY in Henderson County. It's right on Highway 41 and it's called The Farmer and Frenchman Winery and Cafe. The "farmer" is Katy Groves-Mussat and the "Frenchman" is her husband Hubert, pronounced (oo-BERR).
Katy is from Henderson and Hubert is from Paris, France. But they didn't meet each other in either location. No, their story began in Miami, of all places, in 2009, where they met at a party. The rest, as they say, is history. And, after multiple trips to Henderson, they decided to make the move. In 2016, they opened The Farmer and Frenchman and have been delighting visitors for years.
The cafe is filled with wonderful rustic decor and bottles upon bottles of wine made right there from the grapes in their vineyard. And so many of the ingredients in the dishes on their menu are also grown on their farm or on nearby farms.
By the way, while "Frenchman" is in the cafe's name, Hubert is of Italian descent, so that's why patrons will see a combination of the two styles of cuisine, in addition to American fare.
So before you go, take another look around The Farmer and Frenchman Winery & Cafe.
The Farmer and Frenchman Winery & Cafe in Robards KY
The Farmer and Frenchman Winery and Cafe in Robards is beautiful and rustic with wonderful "farm to table" cuisine and a menu that spreads the wealth among French, Italian, and American.
Kentucky Restaurants and Bars Featured on National Television
Kentucky has been well-represented on a number of television series, and not just on Diners, Drive-Ins and Dives. Check out the list:
The Food and Atmosphere at Hawesville's Riverview Restaurant
Riverview Restaurant has been in Hawesville since the 60s. But it has a new owner in 2021 and big changes are coming to the tiny restaurant. We got to go in and sample some of their offerings and check out the incredible view. Oh, and the homemade pie... is... delightful! It's definitely worth a trip to Hawesville to check out this amazing eatery!
Visit them on Facebook
or just stop in at
2220 Indian Lake Dr, Hawesville, KY,
and enjoy.