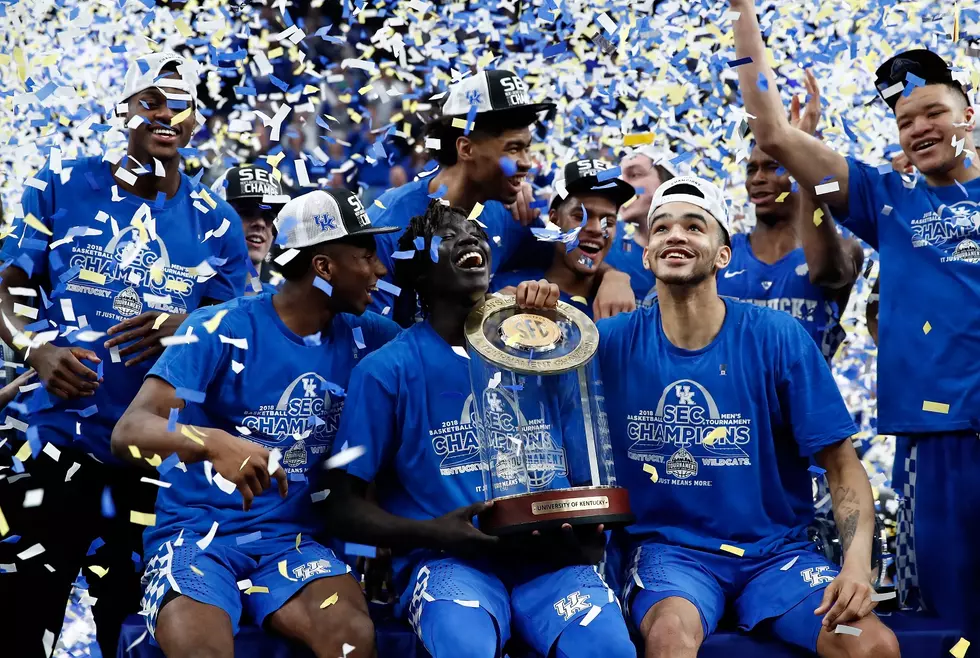 ESPN Puts 5-Seed Kentucky on Upset Alert Against Davidson
Andy Lyons/Getty Images
The 2018 NCAA Tournament bracket was revealed Sunday evening (in a pretty clunky format, I might add, but that's another story for another day), and Kentucky fans saw their beloved Wildcats assigned to a first-round game in...BOISE, IDAHO.
That will certainly put Big Blue Nation's reputation as an "anywhere, anytime" fan base to the test.
But let's talk about UK's seed. They got a 5. Historically, that could put them in a precarious position.
ESPN's Keith Lipscomb crunched the numbers and has produced a LONG list of facts about the NCAA Tournament based on history and how certain seeds perform against other seeds.
In 29 of the last 33 years, at least one 12-seed has beaten a 5-seed.
I've seen the Davidson Wildcats play. They are the 12 opposite Kentucky's 5. They are more than capable of pulling off that upset. In fact, one ESPN blogger gives UK a 31% chance of losing that game. Yeah, I know. Not a lot. And there are a LOT of upset suggestions in his blog.
And how good Kentucky's been over the last month doesn't matter. I've seen teams come into the tourney red hot, get a 5, and then drop that game to a 12.
Trust me, this is not a doom-and-gloom scenario for the 'Cats. There are four 5-seeds and you only need one of them to lose to maintain that dubious statistic mentioned earlier.
But Kentucky does have a tough draw. And, honestly, if you're a 5-seed it's not supposed to be easy. But if UK gets past Davidson, there's a potentially brutal second-round game against Arizona awaiting them. ANOTHER group of Wildcats.
It's always interesting when teams get away from conference opponents at tournament time. After three months, they're finally getting opponents not familiar with their style.
Kentucky plays Thursday evening at 6:10 and we'll have it for you on 92.5 WBKR!