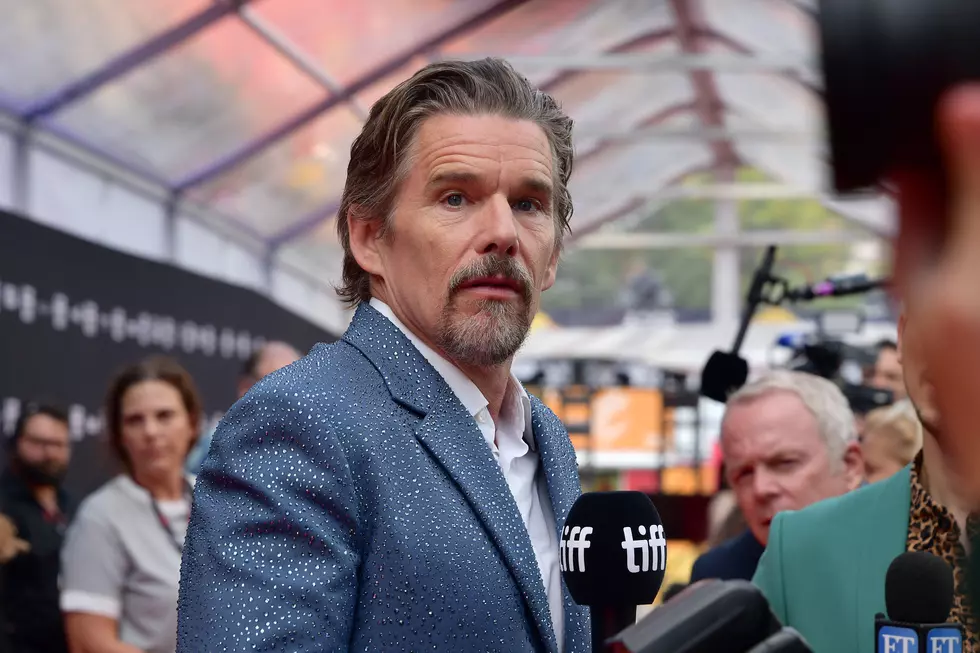 Two-Time Oscar Nominee Ethan Hawke Back in KY Scouting Film Locations
Araya Doheny/Getty Images
Last Saturday, after spending some time at the Dia de los Muertos Festival in Henderson's Central Park, we drove through the city's downtown area. I made mental notes of how beautiful and well-maintained it is.
MAKING MOVIES IN KENTUCKY
I did that because, once again, I was in a small-ish Kentucky city that would make a great backdrop for a movie shoot. And I've been doing that ever since the Kentucky Entertainment Incentive--a refundable tax credit--came into being at the beginning of 2022.
Earlier this year, Orlando Bloom was in the Commonwealth shooting an upcoming thriller and now we've had a two-time Oscar nominee among us scouting locations for an upcoming movie.
ETHAN HAWKE SCOUTING FILM LOCATIONS IN KENTUCKY
That's right. Ethan Hawke showed up in Shelbyville KY recently and spent some time with Shelby County Deputy Judge Executive Jon Park, who showed him around town. Park says Hawke and his team were very impressed with just about everything they saw.
That the film will be set in the 1950s is even better, and here's why I say that:
The small towns I've visited and to which I'm referring are, in my mind, perfect BECAUSE they could be used for a movie set in MULTIPLE decades. That's the great thing about downtown areas that maintain their old architecture.
Outside of the time period, Hawke was less forthcoming about the rest of the film, and that makes sense. Also, according to WLKY-Louisville, nothing is yet confirmed regarding Shelbyville. But the city--with a population of about 20,000--is on his radar.
THIS IS NOT ETHAN HAWKE'S FIRST VISIT TO KENTUCKY IN 2022
This is actually Ethan Hawke's second appearance in Kentucky in four months. Back in July, he was spotted at the Louisville Zoo.
At that time, WLKY reports, he was also scouting film locations. I would imagine it's for the same movie, but I don't know for sure. But what are the odds it's for TWO different films?
And if you need to shoot a scene or two in a zoo, the Louisville Zoo is one of the best I've ever visited.
ETHAN HAWKE -- A LITTLE HISTORY
Ethan Hawke made his film debut in 1985's Explorers, but he had his big breakthrough in 1989's Oscar-nominated Dead Poets Society, in which he uttered, arguably, the film's most famous line at the beginning of, arguably, its most famous scene.
In 2002, he received a Best Supporting Actor Oscar nomination for his work in 2001's Training Day and scored a second nod in that category in 2015 for 2014's Boyhood.
Hawke already has a busy 2023 lined up with three movies scheduled for release--Tonight at Noon, Leave the World Behind, and Strange Way of Life--and now he's gearing up for AT LEAST a fourth.
Fingers crossed, Shelbyville. Fingers crossed.
13 Movies That Were Filmed in Kentucky
Kentucky hasn't gone ignored by Hollywood, with regards to the usage of filming locations. But there could always be more, right?
Kentucky's History with the Oscars
The Oscars are this Sunday. Here's a list of Kentucky natives who've been nominated for acting awards, mixed in with some films with their own Kentucky connections.
I Bet You Didn't Know These Celebrities Were Kentucky Colonels