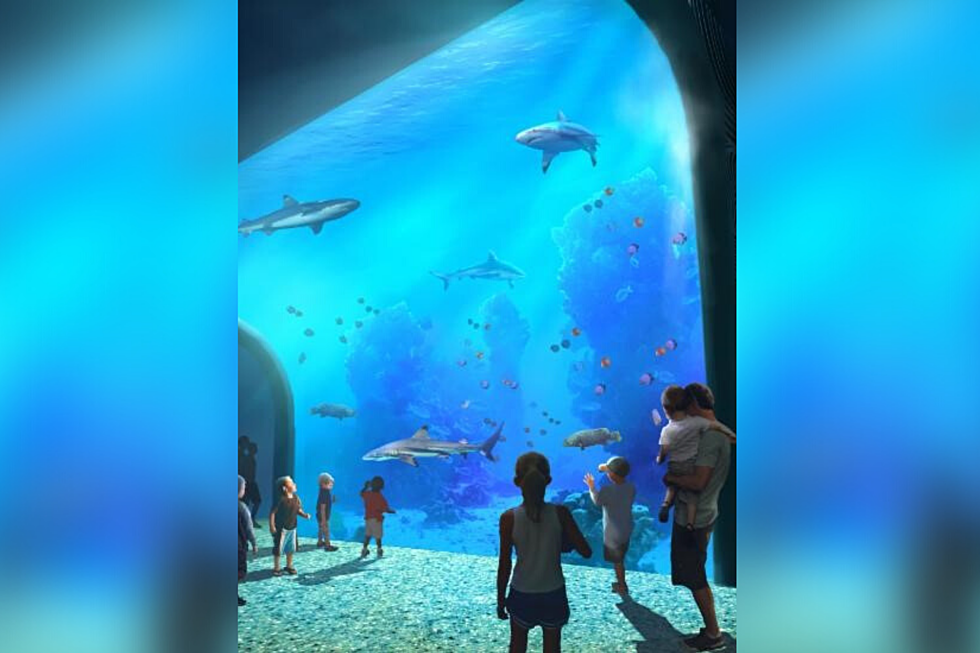 Exclusive Sneak Peek: St. Louis Aquarium at Union Station [Video]
St. Louis Aquarium Shark Canyon Photo: St. Louis Aquarium PR
So, where were the sharks? Oh, trust me they are there! So are the stingrays, hands-on exhibits and otters. Cameras were not allowed for this part of the media tour, but you will not be disappointed.
In the deepest part of the sea, you'll find the sea horses (Yep, they are real) Octopus and some out-of-this world digital effects that mimic bioluminescent organisms.
The first resident to move into the aquarium was  'Lord Stanley'. He's a very special crustacean, because he is a very rare blue lobster. A restaurant in Massachusetts donated him in honor of the St. Louis Blues' Stanley Cup championship. Fans were able to vote on his name, and they picked a very fitting one! He has his own line of merch in the gift shop.
General admission tickets are $25 for adults and $18 for children ages 3 to 13. Children under the age of three are free. Tickets will allow access to all of the Aquarium's galleries, exhibits and interactive experiences. The St. Louis Aquarium at Union Station will offer timed ticketing that will allow guests to avoid waiting in line. A limited number of same-day passes also will be available for purchase every day on site. Season pass holders can visit anytime, with no timed tickets.
The Aquarium will be open for extended holiday season hours from December 26, 2019 through January 4, 2020 from 10 a.m. until 9 p.m. daily. Beginning January 5, the Aquarium will be open regular hours from 10 a.m until 6 p.m., Sunday through Thursday and 10 a.m. until 9 p.m. on Fridays and Saturdays.
If you have ever visited Union Station in the past, you will be amazed at the transformation that has taken place, over the past several months. The entire area is going to be a family destination for weekend or day trips. When you purchase your aquarium tickets, you'll have the option to add on other fun activities like: The Wheel, Carousel, Mini Golf, Mirror Maze, and the Ropes Course. You can grab a bite to eat at one of four restaurants, including the Soda Fountain that features those insane milkshakes, made with cookies, brownies, sprinkles and every kind of treat you can imagine.
Enter your number to get our free mobile app