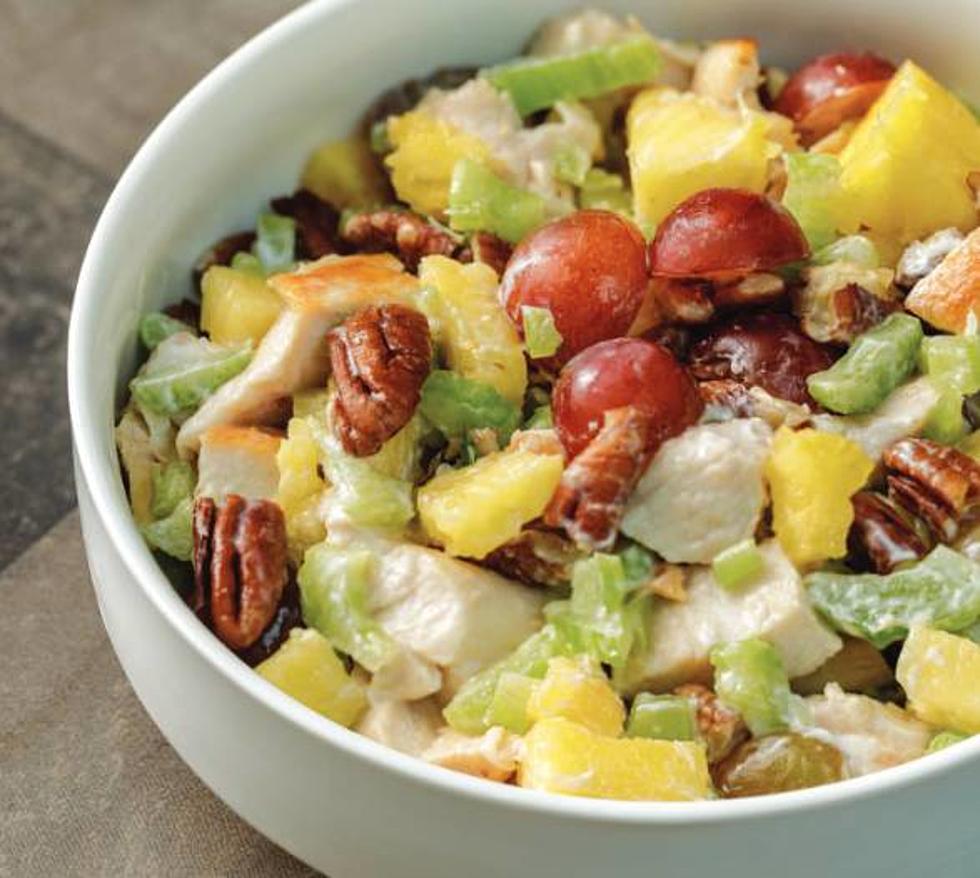 Here's a Delicious and Easy Recipe for Holiday Turkey Salad
UK Cooperative Extension
With Thanksgiving right around the corner, you're likely getting that turkey prepped.  Whether your baking it, smoking it or deep-frying it, the chances are you'll be in the same boat with the rest of us.  You're likely going to have a bunch of it leftover.
Well, my friend Kelly Bland, who works at the UK Cooperative Extension Office here in Daviess County, is serving up a fun idea on what you can do with it.  She's sharing a Kentucky Proud recipe for Holiday Turkey Salad.  You can use those Thanksgiving leftovers to create a new and fun dish that won't taste like Thanksgiving at all.
Here's how to make it!
HOLIDAY TURKEY SALAD
1 tablespoon olive oil
2 pounds cooked turkey breast,cut into bite-sized pieces
1 cup plain nonfat Greek yogurt
1 tablespoon honey
1 (14-ounce) can pineapple chunks, drained
1 cup halved red grapes
3 chopped celery stalks
2/3 cup pecan halves
DIRECTIONS
1. Heat oil in large skillet over medium heat. Add turkey pieces and cook until lightly browned. Let turkey cool slightly.
2. In a small bowl, mix together yogurt and honey. Set aside.
3. In a large bowl, mix together pineapple,grapes, celery, and pecans. Add turkey.Add yogurt dressing until desired texture.
4. Refrigerate until well chilled.
I am not sure about you, but I'm kind of here for the recipe.  Now, we completely scaled back the turkey for Thanksgiving this year, so I seriously doubt that I am going to have two pounds of cooked turkey to spare.  However, this recipe may be worth buying some extra turkey and making it anyway.
And, of course, each UK Cooperative Extension recipe we share is designed to save you time and money in the kitchen.  Here's the cost per serving breakdown for Holiday Turkey Salad.
The recipe makes six one-cup servings.  The cost for the entire recipe is $10.95.  That makes the cost per serving just $1.83.
Our weekly Kentucky Cookin' segment is presented by Kentucky Legend.  If you're interested in delicious Kentucky Legend-inspired recipes, CLICK HERE!
LOOK: Here are copycat recipes from 20 of the most popular fast food restaurants in America
KEEP READING: 3-ingredient recipes you can make right now