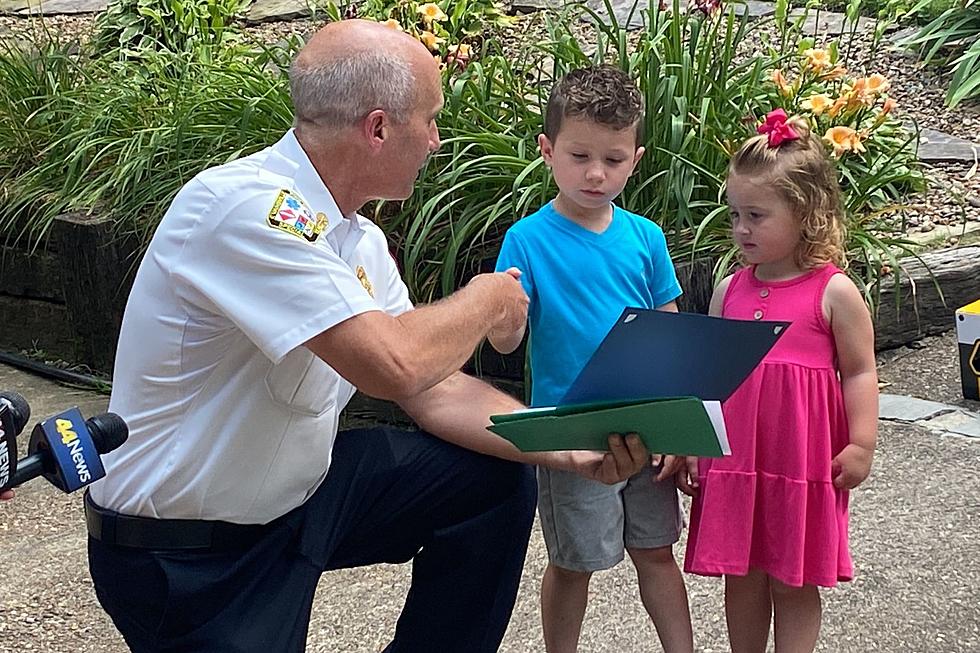 6-Year-Old Indiana Boy Becomes Honorary Firefighter After Helping Save His Grandmother's Life
Townsquare Media
I don't know too many 6-year-olds who would have thought to do what Houston Houchin of Evansville did when his grandma needed emergency assistance. Thankfully, he knew exactly what to do and it likely saved her life.
6-Year-Old Evansville Boy Helps Save Grandmother's Life
Two weeks ago, Houston and his 2-1/2-year-old sister, Hensley were at their grandma's house playing when grandma, Cheryl Barrett, fell unconscious. Instead of panicking or trying to revive Cheryl on his own, Houston remembered what his parents had taught him to do in an emergency. He ran outside the house looking for an adult who could help. Luckily, a group of construction workers from Hydromax were working right down the road. He told the men what had happened and all seven ran to Cheryl's house where they called 911 and kept an eye on Houston and Hensley until first responders arrived on the scene. Firefighters with Engine 7 across from Howell Park were the first to arrive and administered medical aid until paramedics with AMR arrived and transported Cheryl to the hospital.
On Thursday afternoon, members of Engine 7, along with Evansville Fire Department Division Chief, Mike Larson, and the Hydromax construction workers who were at the scene day returned to the home on Evansville's west side for a brief ceremony to award Houston with a certificate naming him an honorary firefighter with the Evansville Fire Department.
Details on what caused Cheryl to fall unconscious were not released by the EFD prior to or during the press conference. However, Cheryl attended the ceremony on Thursday afternoon and appeared to have no ill effects from the incident.
Houston's quick thinking that day serves as a good reminder to parents of young children to talk with their kids about what to do in an emergency situation like Houston and his sister found themselves in. Of course, calling 911 is the first thing, but if that's not possible for whatever reason, find an adult as quickly as possible that can help. There's no guarantee they'll become an honorary firefighter or police officer, but they could potentially save the life of a loved one.
KEEP READING: Here are the most popular baby names in every state
Using March 2019 data from the
Social Security Administration
,
Stacker
compiled a list of the most popular names in each of the 50 states and Washington D.C., according to their 2018 SSA rankings. The top five boy names and top five girl names are listed for each state, as well as the number of babies born in 2018 with that name. Historically common names like Michael only made the top five in three states, while the less common name Harper ranks in the top five for 22 states.
Curious what names are trending in your home state? Keep reading to see if your name made the top five -- or to find inspiration for naming your baby.