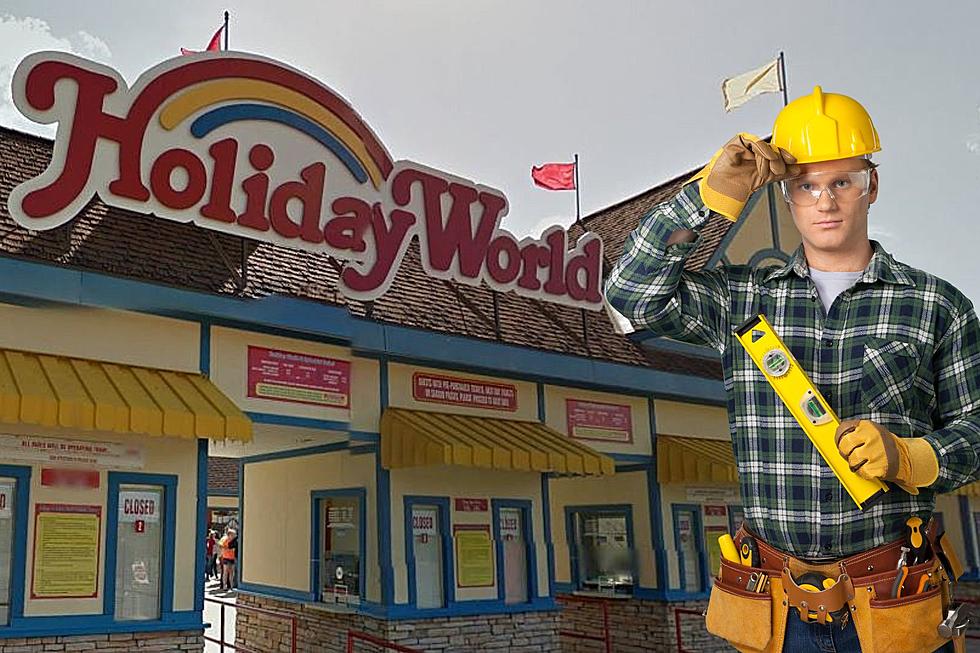 Confirmed: Construction Begins on a New Roller Coaster at Holiday World
Google Maps / Canva
Just over two weeks ago, social media was abuzz as a few "internet detectives" began speculating that Holiday World & Splashin' Safari in Santa Claus, Indiana was in the process of adding a new roller coaster to its lineup. After initially playing coy, park officials did confirm on Thursday the detectives were right.
Holiday World Confirms Construction of a New Roller Coaster
Speculation on the new coaster started late last month when the YouTube channel, Coaster Focus shared information it had discovered regarding shipping information from a company that designs and builds boomerang coasters being addressed to Koch Development Corporation, the owners of Holiday World.
That information was also shared by the Evansville-based Facebook page, Evansville 411 News, a page whose administrators track and report on new commercial developments being planned around the area. In their post on June 20th (below),  they said the shipment came from Vekoma Rides Manufacturing and noted that the park submitted paperwork with the State of Indiana back in April and May for a project called "Gravy Boat."
As the rumors began to swirl, we reached out to Holiday World's Director of Communications, Leah Koch-Blumhardt by text and asked her if there were any truth to the rumors. She neither confirmed nor denied the reports, but did say the park was "impressed with the internet sleuths" and that they were "not ready to spill the gravy boat just yet."
Fast forward to Thursday (July 6th, 2023), and Holiday World is finally willing to spill a little bit of gravy on the project.
The link in the post goes to an article written by Koch-Blumhardt where she answers a few frequently asked questions she's been getting since the rumors started. While she remains tight-lipped about most of the details, one of the final questions she addresses is whether or not the new project is indeed a roller coaster:
How have we made it this far and you haven't even confirmed that you're building a roller coaster? 
You didn't read all this way for nothing. We're building a roller coaster.
Whether or not it will be called, "Gravy Boat," which wouldn't be the most exciting name for a thrill ride but would make sense considering it's in the Thanksgiving section of the park, all Leah says is that the Thunderbird roller coaster project name was, "Big Turkey." So, it seems unlikely the ride will actually be called "Gravy Boat." And if I'm being honest, that's probably for the best.
Holiday World: Queens & Kings of the Ride Tease
If memory serves me correctly, the last time Holiday World & Splashin' Safari built a new ride was the Cheetah Chase, the world's first launched water coaster which made its debut in 2020. Nearly a year before its debut, the park sent some mysterious packages to the station that looked somewhat like to-go boxes with large claw marks drawn on the side. Inside were two bottles of water and a small bag of Cheetos.
Whether or not Holiday World decides to go a similar route whenever it's ready to give us more details on the new coaster remains to be seen, but I know that I'm excited to see what they have in store.
You can read Leah's full article about the new coaster on the Holiday World website.
[Sources: Holiday World / Evansville 411 News / Coaster Focus on YouTube]
25 Must-Try Rides at Holiday World & Splashin' Safari
Ryan O'Bryan's 8 Favorite Rides at Holiday World & Splashin' Safari
A day at Holiday World & Splashin' Safari isn't complete until I've had the chance to experience all these eight rides and attractions.