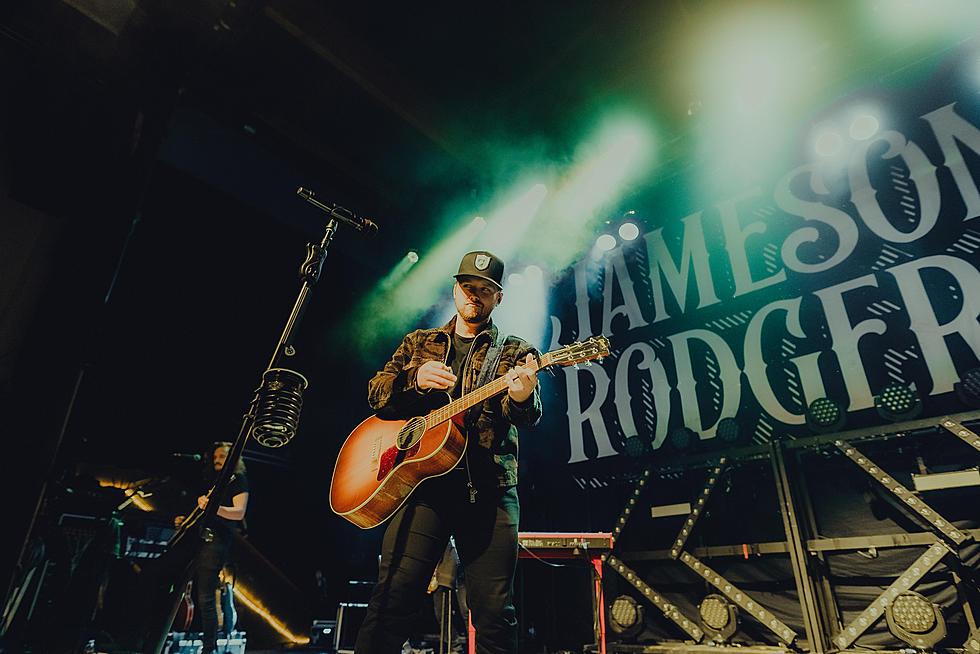 Jameson Rodgers Among Three Songwriters Coming to Mattingly Charities Fundraiser at Victory Theater in Evansville
Matt Bender
For the first time since its inception, Mattingly Charities' annual Find-A-Way fundraising event was changed from a night with Evansville native, Don Mattingly and some of his friends from the world of Major League Baseball sharing stories from their playing days to a singer-songwriter event featuring familiar names from the world of country music. That format will continue this year with three more songwriters, Lee Thomas Miller, Dallas Davidson, and Jameson Rodgers.
Jameson started his career in country music like so many others with a guitar and a dream; he moved to Nashville and started writing songs he hoped other artists would want to record. As it turns out, they did.
Before stepping in front of the microphone, Jameson got his start in Nashville writing hits for other artists. His credits include Florida-Georgia Line's top 10 hit, "Talk You Out of It," Chris Lane's number one hit, "I Don't Know About You," and the title track to Luke Bryan's Born Here, Live Here, Die Here. More recently, Jon Pardi and Jordan Davis have songs on their most recent albums co-written by Jameson.
After deciding to record his own music, he found success right out of the gate with his first single, "Some Girls" in 2019 which bolted to number one on Billboard's Country Airplay chart. He followed that with another huge hit, "Cold Beer Calling My Name" featuring his close friend and frequent songwriting partner, Luke Combs.
2023 Mattingly Charities Find-A-Way Benefit Show at Victory Theater in Evansville
Joining Jameson will be joined by Nicholasville, Kentucky native, singer-songwriter, and sometimes record producer, Lee Thomas Miller, who has written seven number-one hits, including "You're Gonna Miss This" by Trace Adkins, "Southern Girl" by Tim McGraw, and "The Impossible" by Joe Nichols. He also has several top 10 and top 20 singles to his credit performed by the likes of Garth Brooks, Brothers Osborne, Brad Paisley, and Thomas Rhett.
Lee has also won both a CMA and an ACM award for Song of the Year with "In Color" recorded by Jamey Johnson. "You're Gonna Miss This" won Song of the Year at both the ASCAP and NSAI awards and Single of the Year at the CMA awards. Other notable accomplishments include 3 Grammy nominations, a Teen Choice award, and 13 BMI awards. He's also had 4 different songs nominated for 'Song of the Year' at the major industry awards. Most recently, he helped write Scotty McCreery's "It Matters to Her."
Joining Jameson and Lee will be Albany, Georgia native, Dallas Davidson. Dallas has an impressive resume of writing credits that features 25 #1 singles including "That's My Kind of Night," "Play It Again," "Huntin', Fishin', Lovin' Everyday," by Luke Bryan, as well as Blake Shelton's, "Boys 'Round Here," "Runnin' Outta Moonlight" by Randy Houser, and "Gimme That Girl" by Joe Nichols. Like Lee, Dallas has also received a long list of awards for his songwriting including, the 2011 and 2012 ACM Songwriter of the Year award, three Grammy nominations, and he's a six-time winner of the CMA Triple Play award for having written three number one singles in a 12 month period.
You can see all three at the Victory Theater on Thursday, November 30th for the 7th annual Find-A-Way Event benefiting Mattingly Charities. The Evansville-based non-profit was founded by Don Mattingly and his wife, Lori, with the intention of helping underserved youth in the Evansville area through the game of baseball. Over the years, the organization has branched out to help other youth-focused organizations by providing funding in the form of grants to those organizations for projects and programs that work with young people in the community.
Mattingly Charities Find-A-Way Ticket Information
Tickets for the show are on sale now at the Ford Center box office across the street from the Victory Theater in downtown Evansville and through Ticketmaster for as little as $30 each. Click the button below to get yours now.
Sponsorship opportunities are also available. Visit the Mattingly Charities website for the various sponsorship options if you're business is interested in being a part of the event.
Every Country Music Hit to Top the Billboard Hot 100 Chart
In 2023, three songs have hit No. 1 on both the all-genre Billboard Hot 100 and Billboard's Country Airplay chart. Before that, just 20 songs had accomplished this. Here's the full list of those songs, including the five artists who have done it twice.