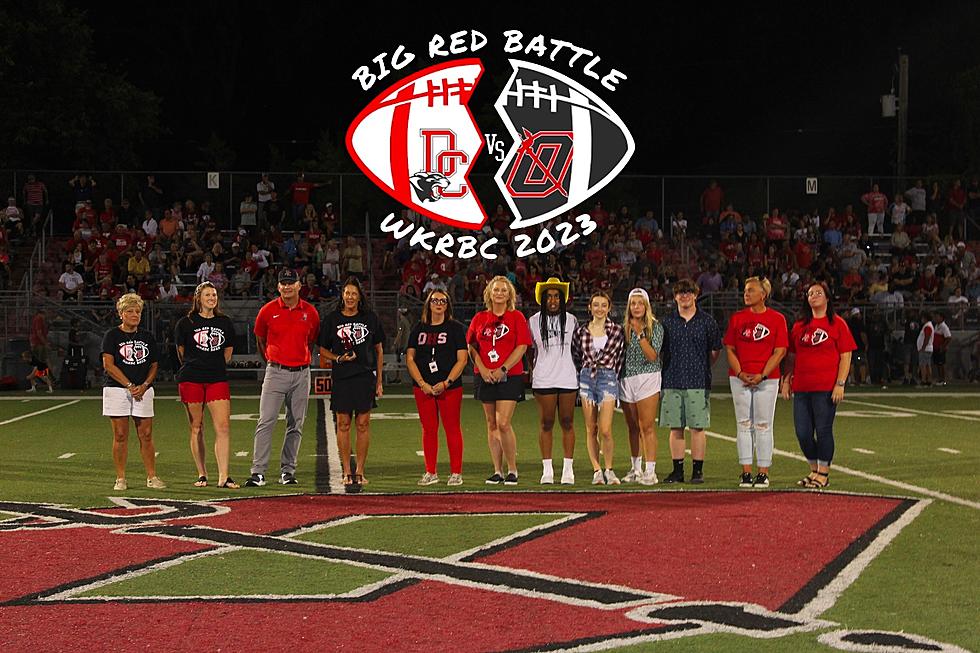 Two Kentucky High Schools Square Off in the 'Big Red Battle' Blood Drive
OHS/WKRBC
An impassioned high school rivalry in Owensboro, Kentucky continues. For the third year in a row, the Western Kentucky Regional Blood Center is capitalizing on that decades-long duel between Daviess County High School and Owensboro High School. Once again, the National Honor Society clubs at both schools are rallying students, teachers, faculty, staff, football players, coaches and fans to donate blood on behalf of their favorite team.
Yes! The Big Red Battle is back. Here's how it works!
The annual Daviess County Panthers/Owensboro High School Red Devils football game is set for Friday, September 1st. Leading up to the game, WKRBC is going to be collecting blood donations made on behalf of those schools. Those collections take place from Monday, August 28th through Friday, the 1st and there are a few ways to donate.
Students and faculty can donate on site inside WKRBC's Bloodmobile.
In fact, here are the dates the Bloodmobile will be at each school.
MONDAY, AUGUST 28TH- DAVIESS COUNTY HIGH SCHOOL (9am-5pm)
WEDNESDAY, AUGUST 30TH- OWENSBORO HIGH SCHOOL (9am-5pm)
FRIDAY, SEPTEMBER 1ST (GAME DAY)- DAVIESS COUNTY HIGH SCHOOL (3pm-7pm)
**On Game Day, fans of both teams are encouraged to visit the Panther Stadium parking lot early to make their donations for their favorite team.**
Also, donations from parents can be made Monday through Thursday (August 31st) at the Western Kentucky Regional Blood Center offices at 3015 Old Hartford Road.
Anyone who makes a donation will get a limited "Big Red Battle" t-shirt honoring their school.
Also, for every successful donation, WKRBC will donate $5 to that school's National Honor Society.
In 2022, the Big Red Blood Drive generated 188 units of blood. That's when Daviess County collected the trophy for the second consecutive year. The Panthers will try to make it a three-peat this year, but Owensboro will be trying to snag their first victory.
Old Daviess County and Owensboro Schools and What They Are Now
Of the many old schools in Owensboro and Daviess County, some are still active, while others have been repurposed.