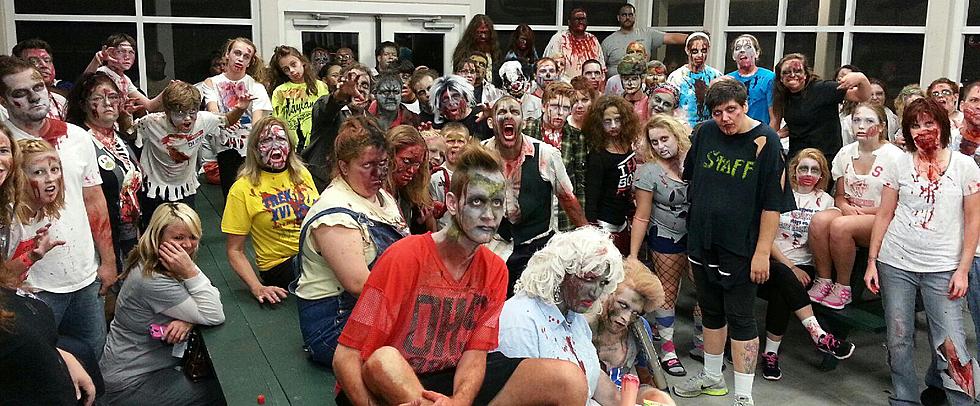 Fake Documentary Traces Deadly U.S. Military Experiments and Zombies in Kentucky
WBKR
Here's a really fun #ThrowbackThursday for you. Ten years ago, I created a Zombie Run hosted by WBKR here in Owensboro. To promote the inaugural run, I enlisted the help of my buddy P.J. Starks, who's a local filmmaker specializing in horror. P.J. and Erik Huskisson are the masterminds behind the Volumes of Blood series and the forthcoming slasher film, New Fears Eve.
By the way, New Fears Eve is currently in production here in town and there's still an opportunity for you to be involved. The team launched a campaign to raise additional money for their film by offering local enthusiasts and wannabe actors and actresses the chance to have a cameo in the opening credits of the film.  The cost?  Just $40.
If you decide to join in the fun, you'll be seen in this!
Now, back to the #ThrowbackThursday fun.
It was 2013 that Townsquare Media Owensboro hosted the first of two Zombie Runs. P.J. and I worked on a concept for a "movie trailer" to promote the run. We sent out an open call for zombies and shot this video on the Greenbelt in Owensboro. This trailer, by the way, snagged us a GOLD Addy Award from the American Advertising Federation of Greater Evansville.
As fun as that trailer was to make, I consider our fake documentary for the 2014 run to be our crowning achievement. I again enlisted the help of P.J., who enlisted Erik and a bunch of other well-known locals, to create a faux documentary about a completely fictional, but classified and harrowing military experiment held here in Owensboro during the 1940s and 50s. The operation was called Project: Deathpack and it inadvertently unleashed a savage pack of blood-thirsty pack hunters into the city limits. I wrote the narrative around some documented, supernatural Owensboro folklore.
Here's the documentary we created.  Or, should I say "deadumentary?"
LOOK: How Halloween has changed in the past 100 years
Stacker
compiled a list of ways that Halloween has changed over the last 100 years, from how we celebrate it on the day to the costumes we wear trick-or-treating. We've included events, inventions, and trends that changed the ways that Halloween was celebrated over time. Many of these traditions were phased out over time. But just like fake blood in a carpet, every bit of Halloween's history left an impression we can see traces of today.