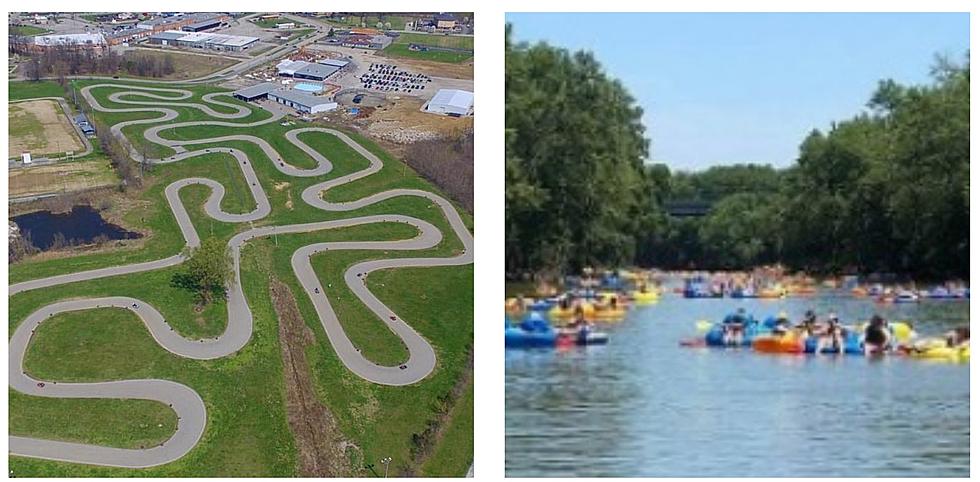 Kentucky Town Home To World's Largest Go-Kart Track & Awesome Lazy River
Awesome Lazy River/Kart Kountry Facebook
Just because school is about to start doesn't mean summer is over.  You still have time to visit one Kentucky town that's home to the world's largest outdoor go-kart track and an awesome lazy river within driving distance from the Tri-State.
Angel here and my two teenage boys absolutely love go-karts more than life.  Anytime we go on vacation that is the first thing they ask to do.  When I showed them Kart Kountry they were begging to go.
Kart Kountry in Shepherdsville, Kentucky, has been in business for 41 years.
They are world-famous for Thunder Road a 1.5-mile long go-kart track. Whether you're a veteran go-kart driver or like being in the passenger seat they have a kart just for you.  Just five years ago in 2017, they added a kiddie track as well.
When you visit you won't be disappointed if someone in the family isn't a fan of go-karts they have a variety of other activities.
Miniature Golf-There is an 18-hole golf course with the super fun decor at each hole including a giant volcano.
Bumper Boats-You can ride solo or ride a double bumper boat.  You can have a water gun fight all while bumping along.
Giant Arcade-The arcade has over 150 different games from kids to adult games.
You can also do bumper boats, miniature golf, batting cages, and play in the HUGE arcade!
As if going to Kart Kountry wasn't enough you could literally make a long weekend out of visiting the town of Shepherdsville.  Kentucky's Awesome Lazy River is located there.  Here's what you need to know if you plan on taking a trip;
Awesome Lazy River is located at 165 Dawson Drive in Shepherdsville, Ky.
•Open every Saturday and Sunday (weather/water level permitting) 10 am to 5 pm from through Labor Day Weekend.
•Tube rental: $15 for a single, $30 for a double, and $5 for a cooler float. $120 for The Typhoon (5-6 people). We can tie the floats together for you. If you bring your own float we charge $10 per person.
•They have shuttle buses that take you back to your vehicle. No extra charge.
•Children must be at least 5 years old to float. All children 12 and under must bring and wear their own life jackets, and everyone must sign a waiver. They provide life jackets for everyone over 12, at no extra charge.
•They are able to handle large crowds or groups of sports teams, boy scouts, and church functions. They have the tubes and experienced staff on hand, no reservations are needed.
Please bring cans or plastic, NO GLASS PLEASE.
•There is a KOA campground a few miles away from us. There are also multiple hotels in the area.
•It is recommended water shoes or tennis shoes be worn while floating.
•Visitors are encouragedto bring a cooler and rent a $5 float for your cooler, please do not bring any glass on the river!
•The float takes about 2-3 hours from start to finish, however, you can float multiple times in a day.
Shepherdsville is also home to a gigantic flea market.  According to their visitor's bureau, they have over 70,000 square feet full of vendors.
The Jim Beam Distillery is also located conveniently in Bullitt County.  The town is part of the Bourbon trail and is home to multiple wineries along the way.
KENTUCKY HOME TO WORLD'S LARGEST GO-KART TRACK
Kentucky is home to the world's largest outdoor go-kart track in the world and a huge arcade and it is within driving distance from the Tri-State called Kart Kountry
Swim with sharks at Wonders of Wildlife National Museum and Aquarium in Missouri
SEE INSIDE: Bowling Green's Massive Drive-Thru Christmas Light Display On A Race Track
Hoping in the car and heading to see Christmas lights is a holiday tradition many families enjoy. Make sure to add Twinkle at the Track to your Christmas road trip.
You don't even have to get out of the car to view all the giant light displays. There are over 25 different light displays and over two miles of track to cruising.
Check Out This Suites With Private Pools In Indianapolis