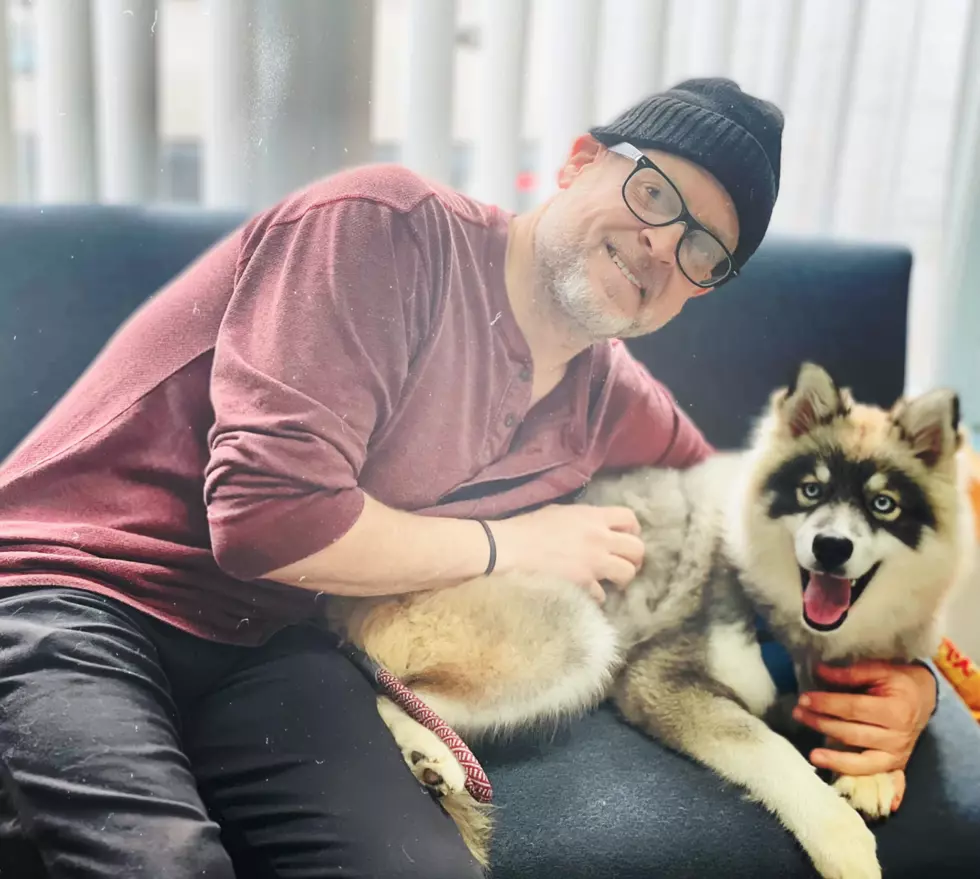 Minnesota Man Travels 12 Hours Thru an Ice Storm to Adopt a Puppy in Kentucky
Hopkins Co. Humane Society
I hope you're ready for a dose of the warm and fuzzies!
As any dog lover will tell you, we would do anything for our four-legged family members. There's something special about a home with a dog, and the love pet owners have for their pups is no doubt a special one. However, Minnesota resident, Jay Mauch, brings a whole new meaning to dedication by traveling 12 hours to adopt his furever friend from the Hopkins County Humane Society.
Meet Fleur
Fleur is a husky/malamute mix that arrived at the shelter as a stray. According to staff, she was very shy and scared while there. Despite receiving tons of applications, the shelter remained cautious about who would be able to adopt Fleur due to her timid nature.
Jay was the second applicant to meet with Fleur and the staff at the humane society instantly liked him. He even stayed an entire week in the area so she could get to know Jay.
A Stroke of Fate
Jay will tell you that the way he came across Fleur was a strange turn of events. As a past husky owner, he began to casually search adoption listings but was in no rush as he wanted to find the perfect match. As if by fate, one day, a random notification on his phone led him to Fleur's listing.
"I never set up any sort of a search or anything," he said. "It was really bizarre it even popped up."
A Long Journey
One look was all it took for Jay to fall in love with Fleur's racoon-masked, blue eyes and fill out an application. When he got the call that he was approved, he knew it was a long drive, but nothing was going to stop him from bringing her back to his home in Minnesota.
"I drove through an hour ice storm out of town and got pulled over on the way out. It was crazy."
Perfect Timing
After losing everything in a house fire a few years ago and unexpectedly losing both of his parents shortly after, Jay experienced dark times that Fleur (now renamed Lux) has helped make a little brighter.
"She has already helped me so much," he said.
Even though Fleur's mischievous puppy ways keep him on his toes, he loves how much of a "goofball" she is and looks forward to each day with her.
"She buried my phone once. She dug a hole and used her snout to put the snow over it then popped up at the sliding door with snow all over her face like 'Hey, I wasn't doing anything.' "
And in case you wondered, yes, she loved the snow!
"When she saw the whole yard was two feet of snow, she dove in, stuck her head in it, and it was so adorable."
Please Adopt
As someone who has both purchased dogs from breeders, and now, adopted, Jay hopes his story will show people how rewarding of an experience it is to rescue dogs from a shelter. At the end of the day, the 12-hour drive was well worth it to find a forever companion.
"You could have offered me a lottery ticket or to go pick her up, and I was picking her up."
If you're looking for your own furry addition to add to the family, you can find dogs like Fleur, as well as plenty of others, by checking out the animals for adoption at any of these local rescues. Whether you prefer to search locally or aren't bothered by a long-distance drive like Jay, you can also look for pets available to adopt using PetFinder.
Kentucky:
Hopkins County Humane Society: (270) 821-8965
Humane Society of Henderson County: (270) 826-8966
Owensboro Humane Society: (270) 302-6813
Indiana:
Vanderburgh County Humane Society: (812) 426-2563
Evansville Animal Care and Control: (812) 435-6015
It Takes a Village No-Kill Rescue: (812) 909-1306
Posey Humane Society: (812) 838-3211
Warrick County Humane Society: (812) 858-1132
12 Things Only a TRUE Dog Mom Will Understand
As a bonafide dog mom, it is no surprise how welcoming a canine friend into your home can change your life (and possibly persona) completely. Here is a list of things only a dog mom will understand.
See Inside the Ark Encounter in Kentucky
If you've ever heard the story about Noah's Ark or read the book of Genesis, you probably wondered how Noah could fit all of the animals on the ark? Or, better yet, how did he feed and care for all of them?
The massive seven-story timber ark replica is full of amazing exhibits aimed at not only wowing its visitors but also serving as an educational experience that may answer questions surrounding the story of Noah's ark and the Flood. Visitors may even leave feeling inspired or thinking differently about this well-known Biblical account.
You can purchase tickets in advance for the Ark Encounter and the Creation Museum on their
website
. For the remainder of 2022, kids that are 10 and under recieve free admission. Also, be sure to check out their
hours
. If you plan to visit during evening hours, you will catch the ark completely lit up in rainbow LED lights.