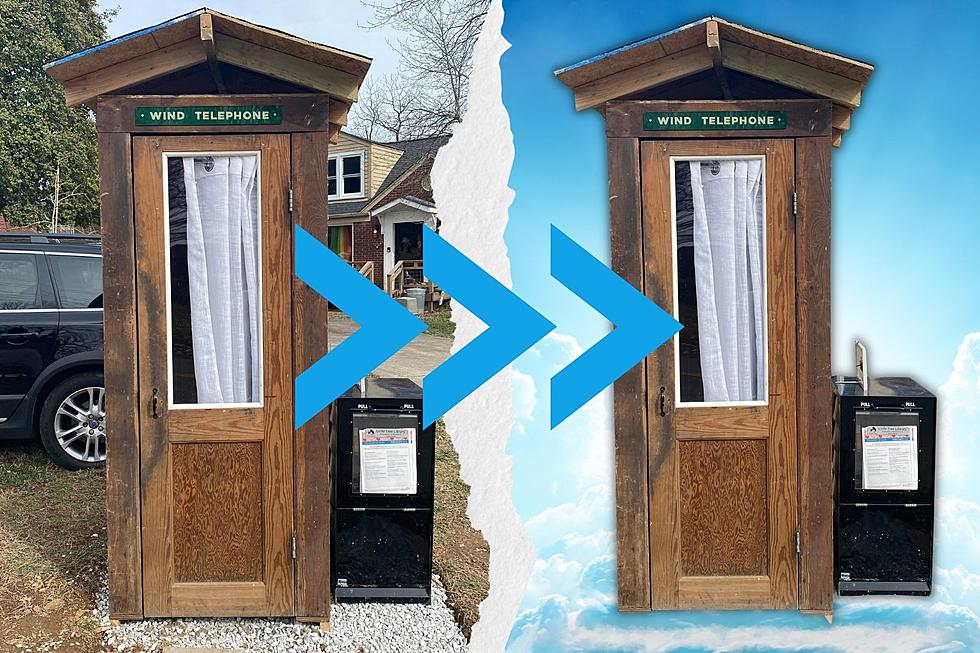 New 'Wind-Telephone Booth' First in TN
Canva / Nashville Wind Phone
If Only Heaven Was a Phone Call Away
"They say you die twice. One time when you stop breathing and a second time, a bit later on, when somebody says your name for the last time" -Bansky
To live is to encounter the inevitable, there isn't anyone in the world that hasn't experienced the forever impactful loss of a loved one. It will be 10 years this September since I lost my beloved father to brain cancer, and it's been three years this month since I lost my best friend, my Uncle Donald to illness. Experiencing major life milestones is as bitter as they are sweet, knowing how much they are missing out on. If only my dad could be here to meet his grandsons.
 Kaze no Denwa ("phone of the wind")
Wind phones originate in Japan, in 2011 a garden designer by the name of Itaru Sasaki built the first one in Otsuchi, Japan after a catastrophic 9.1 magnitude earthquake struck. While we know that there won't be anyone on the other end of the line, it can be a means of open communication with a loved one that's needed to help heal and grieve. Everyone goes through grief differently and this offers the public a unique way to cope.
Located in an East Nashville neighborhood is a newly placed phone booth, housing an old rotary phone and a handy box of tissues for anyone needing to place a call to the afterlife. The messages you have are said to be carried to the heavens on the wind. Anyone can visit the booth at its location at 1425 Rosebank Ave. in Nashville, Tennessee. Allison Young and her father created and dedicated the phone booth to her grandparents.
Wind Phone in East Nashville
Wind phones have been popping up across the country for the last few years, and this one makes the first one, not only in the state but the only one in this region. Allison Young officially opened the wind phone on February 4th in East Nashville.
"There are things that you have left unsaid that you just really feel like you need to talk to them to say," said Allison Young, a cancer research nurse at Vanderbilt University and the creator of Tennessee's first "wind telephone."
Location: 1425 Rosebank Avenue, Nashville, TN,
So if you find yourself in music city anytime soon, keep Allison's wind phone in mind, and don't be shy about visiting it.
I would like to take a moment to dedicate this article to some of my very loved family members who are no longer with us. May all of us dealing with the loss of someone close to us, whether it is recent or whether years have passed, find some comfort in knowing that they are not as far away as we may think.
Nashville, TN Airbnb Looks Like A Barbie Dream House
Barbie meets Nashville in this incredible Airbnb. Perfect for a girls trip, birthday trip, bachelorette party weekend, or any reason to love PINK!