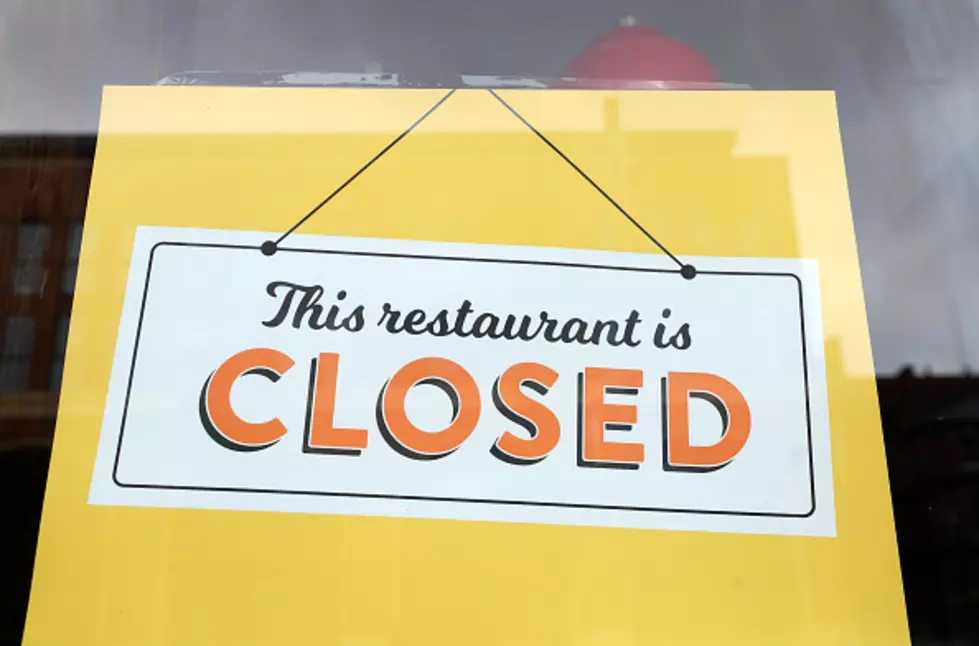 It's Almost Closing Time at the Restaurant, But Can I Still Go In And Eat?
Catherine Ivill/Getty Images
I spent my college years waiting tables at The Old Spaghetti Factory in downtown Louisville.  The last couple of years that I worked there, I worked in Section 6. That section was one of the first sections to open each night and, because I was essentially in charge of cashing out all the other servers in a given shift, my section was the last to close. That meant that all the last-minute tables were seated in my section.
There were some nights that I didn't mind it. On other nights, if I had plans to hang out with friends or study for an exam or something like that, I would get really irritated if someone rolled up into "Spag" at 9:55 and we were supposed to close at 10. Even though I was the king of turning tables (ask anyone I used to work with) and I could get people in and out quickly, I still thought it was borderline rude for people to waltz in minutes before closing and still expect the same kind of dedicated and patient service. Some nights they got it.  On others, well, they didn't.
Just a few days ago, my friend Katrina Emmick shared this question on Facebook:
Want to know your thoughts…..if a restaurant closes at 8:00pm what is too late to go in and expect food?!
A variety of Katrina's friends chimed in with a similar answer. Many felt that 7:30pm is acceptable if the customers plan to sit down and eat. However, there were some differences of opinion.
Mandy Sosh shared her own experiences- I served for alot of years in a couple of restaurants. If a party came in 30 mins before closing it meant an extra 2 hours for me because our closing duties took around an hour. No matter the hours though it's still 2.13 an hour base pay. So if the server is staying an extra hour to wait on 1 table & they tip $5 it's not even minimum wage for them. But no matter what time a table came in we served them. Just food for thought.
Amber Snyder- For sit down 7. Food can take 20min or more depending on number of guest. Then 30 min to eat. Leaving in 10 min to spare for the waitstaff and kitchen to clean and get home. Drive through maybe 7:30. I was a server for many years. A lot of parents get home just in time to tuck their kids in.
Kara Morton- I agree with the 30 mins before close if it's a sit down restaurant. I worked 6 yrs at Pizza Hut and dealt with both situations. Some people just don't care if you closed at 10 p.m. and wouldn't get home till midnight.
I decided to reach out to my friend Valarie Roberts, Kentucky's Etiquette Lady, to see if she wanted to chime in and give us an expert opinion.
Her initial response was perfection.  She says:
In a perfect world, and in order to have excruciatingly good manners, we would be prepared, have proper reservations, and arrive on time.
But, Valarie's also a realist and provided some additional advice.  She says it's important to note that most restaurants want to accommodate every customer, no matter what time they arrive. However, she does have some important advice for those customers who wander in at closing time.  And I can tell you from my own restaurant experience, it happens nightly.
Kentucky's Etiquette Lady says "diners arriving at such a time should show courtesy to the staff."  Valarie also says there are a couple of other courteous things customers can do: a) Call ahead and ask if it's okay to still come in to dine, b) Don't stay too long, c) TIP well, 25-35%.
She also has helpful tips for restaurant management and staff and says much of the responsibility in this situation falls to them.  She encourages clear communication with diners. For example, they can lock their doors so new customers cannot enter past a given time.  Or, they can inform late-arriving guests that "the kitchen closes in ten minutes." Or they can post appropriate signs such as "Only pizza after 9pm."
More from Kentucky's Etiquette Lady here:
50 Most Popular Chain Restaurants in America
YouGov investigated the most popular dining brands in the country, and Stacker compiled the list to give readers context on the findings. Read on to look through America's vast and divergent variety of restaurants—maybe you'll even find a favorite or two.