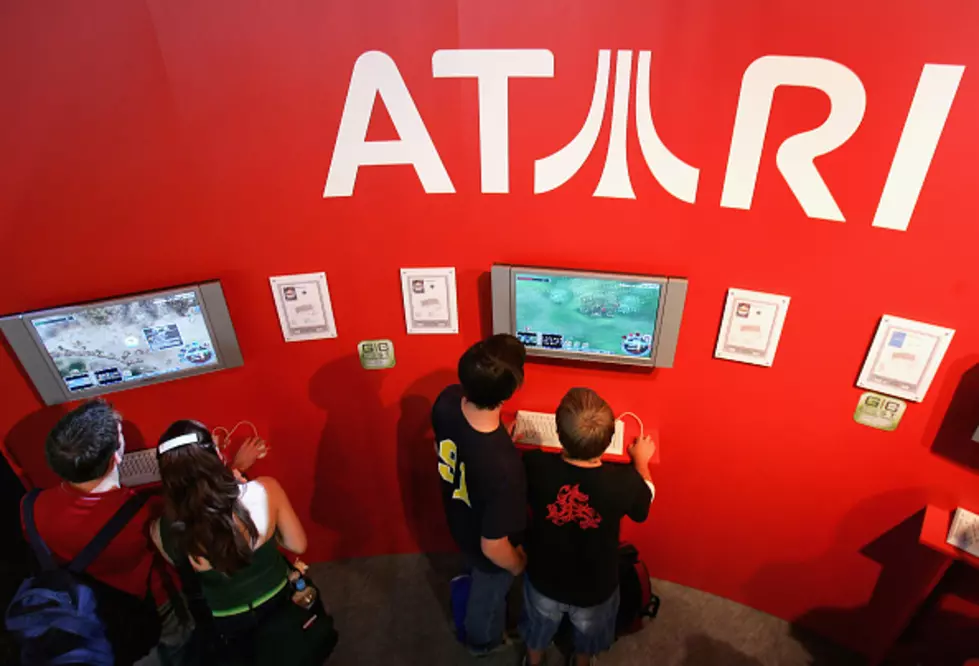 The Ten Best Atari Games of All-Time
Andreas Rentz/Getty Images
It is National Video Game Day and I decided to celebrate by reliving the glory days of Atari. I LOVED Atari and, believe it or not, still have two Atari game consoles and they both work!
I recently got them out of storage and reminisced about all the games I have that I used to burn hours playing. Take a look!
Well, to celebrate National Video Game Day and truly honor the legend of Atari, I decided to put together a list of my all-time favorite Atari games. I'm calling his list The Ten Best Atari Games of All-Time and, yes, I realize this is completely subjective.
However, take a look at my ten favorites and see how many of yours made my list.  If I left one of your favorites off the list, chime in and let me know!
In meantime, enjoy this walk down joystick lane!
#10- KABOOM!
My friend Brian and I used to play Kaboom! constantly.  He had an Atari before I did and this was one of the games he had. It's design and concept were laughably simple, but Kaboom! was nerve-wracking and completely addictive.
#9- OINK!
I LOVED playing Oink! It was a clever take on the legendary battle between the Three Little Pigs and the Big Bad Wolf. This was a classic fairy tale gone horribly wrong. If your little pig got caught in the wolf's wickedly bad breath, that little piggy wasn't going home ever again.
#8- SPACE INVADERS
One of THE truly classic Atari games. Lots of Atari games were set in outer space, but Space Invaders truly captured the threat of alien invasion. I had this game on my Atari 2600 and I also had a hand-held version of it.  Space Invaders was one of the video games that truly ruled the early 1980s.
#7- SPIDERMAN
The very first Atari game I ever purchased with my own money. I used to mow my aunt's yard and she paid me $7 each time I did it.  It took four weeks to save up to buy Spiderman. I distinctly remember the day I got it.  I bought it at the Osco Drugs location inside Towne Square Mall in Owensboro. The graphics on the game were terrible, but it didn't matter. I got to pretend to be Spiderman and face off against the Green Goblin anytime I wanted.  And, I played this game a lot.
#6- MS. PAC-MAN
Though Pac-Man certainly was the pioneer, I think we can all agree that the Ms. was a much better model and game. Ms. Pac-Man did everything better than Pac-Man- the graphics, the soundtrack, the challenge.  I loved this game.
#5- COSMIC ARK
For my money, THE best space-themed Atari game. Heck, my mom even liked playing Cosmic Ark. It was simple in design and execution, but the game put your nerves, senses and steadiness to a relentless and pulse-pounding test.
#4- JUNGLE HUNT
Very reminiscent of another game that I will mention in a moment, Jungle Hunt was escapism at its best. It literally thrust you into the middle of the jungle to swing on vines and swim with crocodiles.
#3- DONKEY KONG
I loved Donkey Kong and could play this game (and all its levels) for hours. This is classic 80s right?  A gigantic "kong", a damsel in distress and a hero literally leaping to save her.
#2- FROGGER
As if your parents telling you to "look both ways" wasn't enough to teach you how to properly cross a road, Frogger upped the ante. If you didn't look both ways in this game, your frog would get flattened by cars or eaten by alligators.
#1- PITFALL
My all-time favorite Atari game- hands down, no competition.  An absolute blast of an adventure that thrust you deep into the jungle on a treasure hunt filled with alligators, scorpions and pits that would thrust you into a twisting-tunneled underworld that seemed like the mouth of madness.  However, if you could brave the challenges, you would be rewarded with gold and silver bars!
What was YOUR favorite Atari game of all-time?
KEEP READING: Check out these totally awesome '80s toys