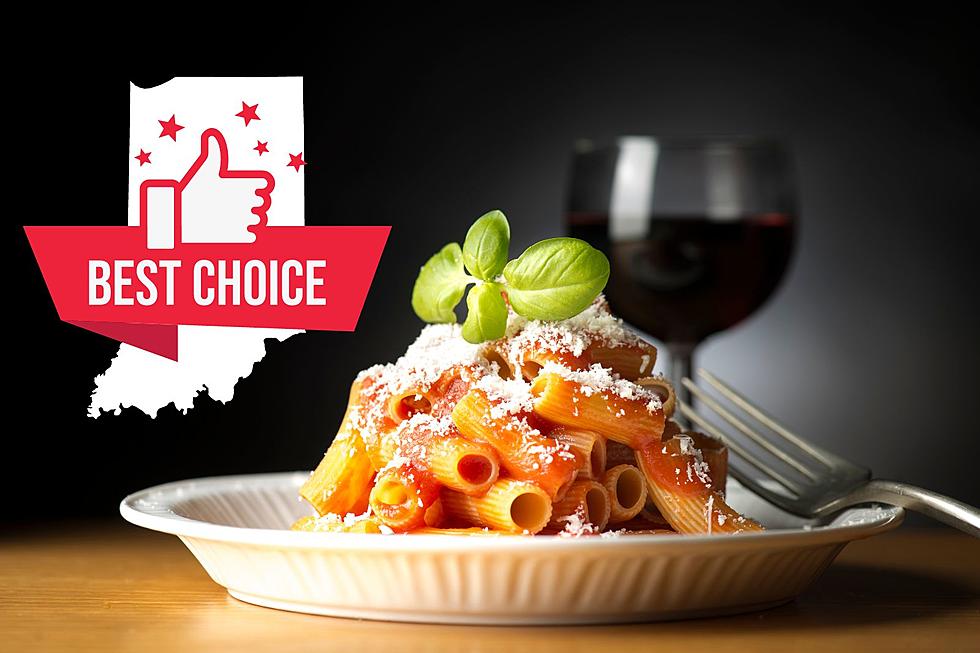 This Has Been Named the Best Italian Restaurant in Indiana
Canva
Attention all Indiana pasta lovers! A website just named the best Italian restaurant in the state. Have you eaten there before?
If I have one food weakness, it's Italian food. It's no lie when I tell you that I could eat it every day...if my better half would allow me. Spaghetti, lasagna, ziti, alfredo, chicken parmesan, the list goes on and on. My mom used to always tell me that I would turn into pasta one day because I eat it so much. I'm still waiting on that to happen. Nevertheless, it's safe to say that if pasta is the topic of conversation, I am 100% on board with it. That's why I was immediately intrigued when I saw a website sharing the best Italian Restaurant in each state. I had to know more.
The Best Italian Restaurant in Indiana
The travel website, 5 Reasons to Visit, listed the best Italian restaurants in each state. When it comes to Indiana, it is one that I have not visited before, but I definitely plan to, the next time I am in that area. The restaurant they chose as the best in Indiana is Ristorante Roma in Carmel. I looked through the menu and photos of the dishes, and my mouth is watering. This place looks AMAZING!
Here's what 5 Reasons to Visit said about Ristorante Roma:
Welcome to Ristorante Roma, where Chef-Owner Raffaele D'Eusebio is happy to be your guide. "You don't have to go to Rome to enjoy that experience, our guests can have exactly the same experience—handcrafted food from scratch, right here in Carmel." With a passion for food and years of guidance in the kitchen from his grandmother, Chef Raffaele seeks to bring the authentic flavors of Rome to his guests with his fresh and seasonal menu. "This is a specific cuisine with specific recipes from the area of Rome where I am from." Here, the pasta is made fresh daily and served al dente. The vegetables rotate with the seasons, and each sauce in simmered and stirred with love. The menu includes traditional antipasti, Insalate, pasta, and Secondi options that lean on fresh ingredients and simple yet creative techniques to produce layers of abundant flavor. Ristorante Roma offers an exceptional wine list highlighting many family-owned wineries and boutique labels.
You can check out which Italian restaurants were named the best in their respective state by clicking here.
33 Indiana Towns with International Names
From Holland to China, Cuba to Switzerland, and everywhere in between, several towns across the Hoosier State borrow their names from countries and cities around the globe.
See 11 Unique Attractions You'll Only Find in Indiana
The website, RoadsideAmerica.com, which keeps tabs on the more unique attractions each state has to offer, lists
75 attractions
for Indiana. The following 11 are the ones I found to be the most interesting and hope to see in person with my own eyes one of these days.
LOOK: Here's Why Indiana is Pretty Much the Best Place on Earth [As Told by Hoosiers]
Reddit user,
u/youcanneverbanme
recently asked their fellow Hoosiers in the
Indiana subreddit
what they liked about living here. The question received hundreds of responses and the vast majority of them were positive. Of course, there were some that were negative because there are sad people who are perpetually angry on the internet and want everyone to know it for some reason, but we won't concern ourselves with those. We want to focus on the good, and when it comes to the good, there's plenty of it to enjoy.