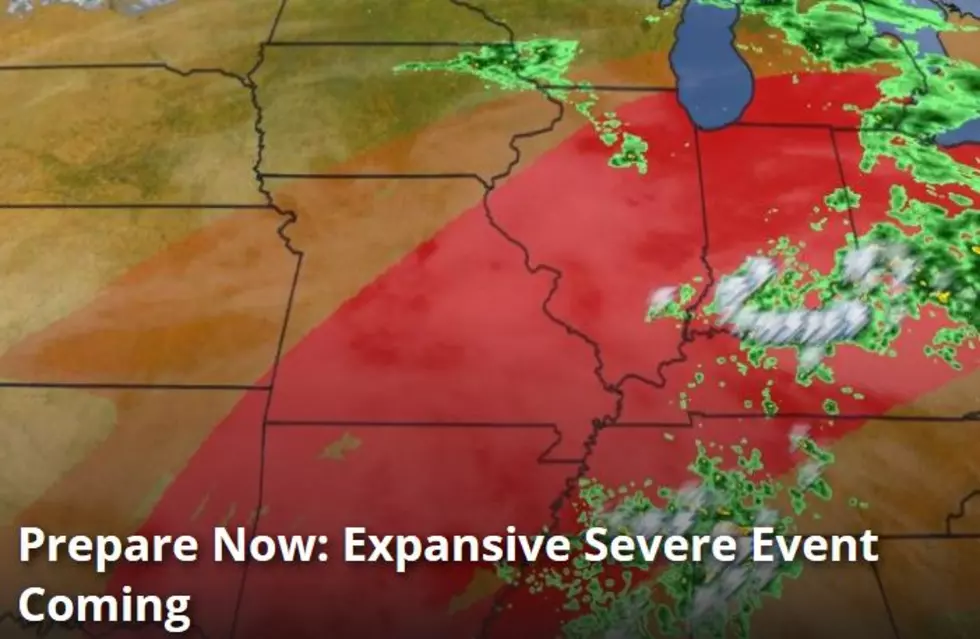 Tri-State Under Enhanced Severe Weather Threat – Tornadoes Possible
weather.com - Click here to watch the forecast!
The weather outside today is pretty yucky so I wore my galoshes. I had no idea that we could be on the cusp of tornadic activity. According to Ari Sarsalari, Weather Channel Meteorologist, we are in the "middle of the red area is where we have the best chance of seeing maybe a couple of tornadoes; a few strong tornadoes possible." He goes on to say that we will be flirting with a severe weather outbreak. Watch the full forecast here.
If you do not have a severe weather outbreak plan, make SURE you have the Radiopup app downloaded to your phone and a full battery today. If the power goes out, you'll be able to listen to Wayne Hart, Chief Meteorologist for WEHT during the storm.
This Hazardous Weather Outlook is for portions of southern
Illinois, southwest Indiana, western Kentucky, and southeast
Missouri.
Isolated thunderstorms moving northeast between 50 and 60 mph
early this morning will produce marginal to damaging hail through
daybreak over parts of Southeast Missouri, Southern Illinois,
West Kentucky, and Southwest Indiana. Secondary hazards will be
frequent lightning and locally heavy rain. An isolated strong wind
gust over 40 mph cannot be ruled out.
There will likely be a lull in the strong to severe thunderstorms
late this morning and into the early afternoon. There may be
multiple regions of storm development, leading to more than one
opportunity for severe weather through tonight. The first time
period will be late Tuesday afternoon into Tuesday evening, then
again overnight, as a cold front moves across the area.
All severe weather modes will be possible, including large hail,
damaging winds and tornadoes. If certain parameters come together,
we cannot rule out a strong tornado or two from southeast
Missouri, into southern Illinois and far west Kentucky. Storm
motion should be east northeast around 50 mph.