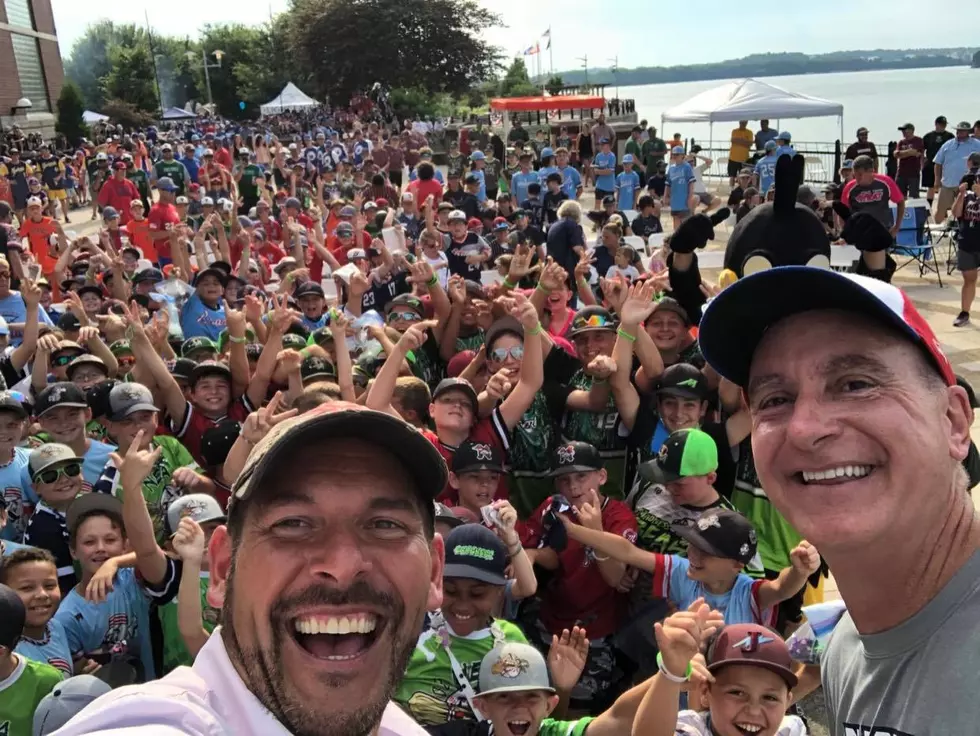 Owensboro Celebrates Hundreds of Youth Baseball Players at Friday After 5
WBKR
The streets of downtown and Friday After 5 are going to be filled with hundreds of baseball players this week as Owensboro plays host to the USSSA 3 Up 3 Down Tournament, which gets underway Thursday and continues through the weekend.
Last year, Eyewitness News Meteorologist Ron Rhodes and I had the honor of emceeing the parade of players and awards ceremonies and we're going to be back to do it again this year.  That parade lineup will take place at 4pm on the Jagoe Homes Stage at the Holiday Inn.  At 5pm, that parade will begin and will ultimately end at the Bluegrass Music Hall of Fame & Museum, which will be home base for the awards ceremony.
I'll be introducing the teams. Ron Rhodes will serve as Grand Marshal for the parade. Owensboro Mayor Tom Watson will sing "Take Me Out to the Ballgame" and Erin Shannon will be performing "My Old Kentucky Home."
Here's a list of the teams who are in town to compete:
2022 World Series Parade Line Up
1 8AAC Brahma Bulls Newburgh IN
2 8AAC Christian County Cats Hopkinsville KY
3 8AAC DC Blast Owensboro KY
4 8AAC Henderson Elite Henderson KY
5 8AAC MTown Mambas Evansville IN
6 8AAC Smithville Scrappers Smithville IN
7 8AAC South Gibson Heat Owensville IN
8 8AAC UC Tribe 8u Uniontown KY
9 8Op Hilliard Colts 8U Hilliard OH
10 8Op MTOWN DOMINATORS Evansville IN
11 8Op Razorbacks Evansville IN
12 8Op Vincennes 8U Vincennes IN
13 9AA Ambush 9U Georgetown KY
14 9AA Madness Heat Hardinsburg KY
15 9AA Owensboro Oilers 9U Owensboro KY
16 9AA Razorbacks 9U EVANSVILLE IN
17 9AA Southern Indiana Outlaws EVANSVILLE IN
18 9AA UC Tribe MORGANFIELD KY
19 10AA Evansville Leathernecks Orange Evansville IN
20 10AA Kentucky Royals Baseball 10U Madisonville KY
21 10AA Louisville Elite 10U Louisville KY
22 10AA Madness Beast Ekron KY
23 10AA ODC 10u Mavericks Owensboro KY
24 10AA Razorbacks 10U - Navy Evansville IN
25 11A MADNESS MANIACS HARDINSBURG KY
26 11A ODC 11U MAVERICKS Owensboro KY
27 11A Owensboro Oilers 11U Owensboro KY
28 11A The Dream Team Petersburg IN
29 11A UC Tribe 11u Morganfield KY
30 11AA HC Elite Henderson KY
32 11AA MTown Lightning EVANSVILLE IN
34 11AA SOUTHERN INDIANA SPIKES 11U SANTA CLAUS IN
35 12A Golfmoor Storm Evansville IN
36 12A Henderson Elite Henderson KY
37 12A Hopkinsville Christian County Cubs Hopkinsville KY
38 12A Naturals Baseball Club Henderson KY
39 12A Newburgh Ice Newburgh IN
40 12A ODC Mavericks Owensboro KY
41 12A Ohio River Ruckus Tell City IN
42 12A Shock 12U Elizabethtown KY
43 12A South Gibson Heat - White Owensville IN
44 13AA Base Knox Sticks 13U Vincennes IN
45 13AA Christian County Cubs -13u Hopkinsville KY
46 13AA demons Demons KY
47 13AA Evansville East Aces Evansville IN
48 13AA Golfmoor Hurricanes Evansville IN
49 13AA Henderson Elite Henderson KY
50 13AA Indiana Spikes Hoover Evansville IN
51 13AA K-Town GhostWalkers Russiaville IN
52 13AA MTown Rage Evansville IN
53 13AA SOUTHERN INDIANA 13U SANTA CLAUS
Of course, in addition to a big celebration of baseball, Friday After 5 has another action-packed night of music lined up on multiple stages downtown.
Here's a look at who's playing, on which stage and when.
TOP TIER
The Jagoe Homes Riverfront Live Stage (6pm to 9:30pm)
Top Tier is a "fun, high-energy party band and a smooth, light jazz band all in one!
AQUADUCKS
Ruoff Party Stage (8:30pm-11:30pm)
The Aquaducks, who hail from Nashville are "a high-energy funk and soul band from with a fresh, yet nostalgic brand of modern funk music' Friday After 5 promises they are going to bring a PARTY!
WHISKEY RICHARD AND THE SHINDIGGERS
Lure (7pm-10pm)
FREDDIE BOURNE
Atmos Amphitheatre at McConnell Plaza (6pm-8pm)
The husky-voiced piano man will be singing your soft rock and pop rock favorites.
THE BROTHER'S GRAY
Romain Subaru Overlook (7pm to 9pm)
If country music is your thing, check out The Brother's Gray on the Romain Subaru Overlook.
Plus, don't miss the Friday After 5 DUNK TANK, which will feature various Visit Owensboro members who've agreed to get dunked to raise money for the Boulware Mission in Owensboro.
And, as always, there will be karaoke at the VFW from 7:30pm to midnight, which gives YOU the chance to be the star of the show.
Friday After 5 2022 Lineup
The 2022 season of Friday After 5 is going to be action packed! Here's a look at the singers and bands who will be making this season of FA5 one of the best in the event's history.