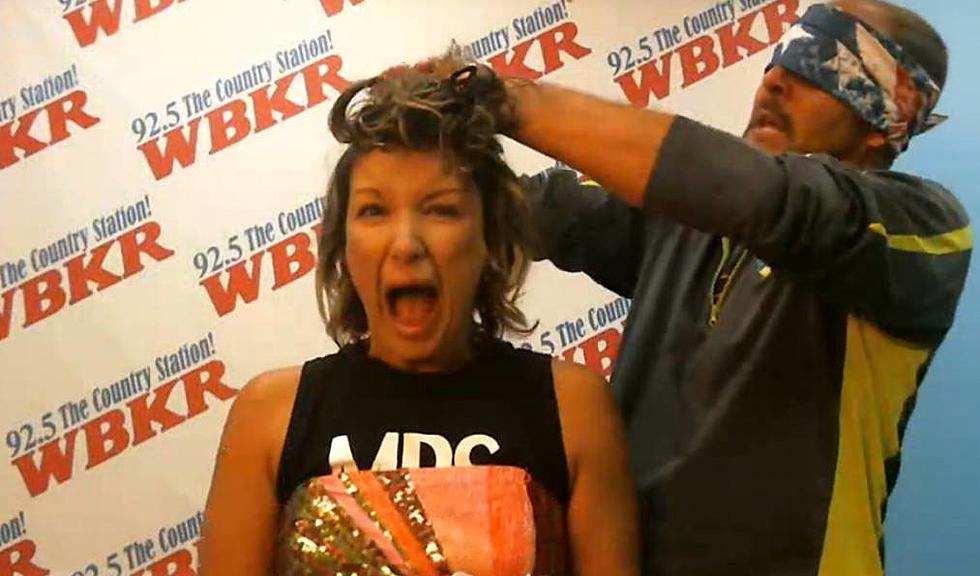 Wacky Wednesday: The Blindfolded Hairstyle Challenge [Video]
WBKR
A few months ago, Angel and I tackled the No Hands Makeup Challenge for one of our Wacky Wednesday episodes.  As a matter of fact, there's really no point in continuing this story until you check it out.  It was unpredictable, hilarious and disastrous.
The No Hands Makeup Challenge is no doubt one of the most popular Wacky Wednesday episodes we have ever had.  So, today, we decided to tackle something very similar.
We were scanning the internet for some fun new suggestions and stumbled across the Blindfolded Hairstyle Challenge.  Now, clearly, in this challenge I was the "Blindfolded Hairstylist."  Angel simply provided the hair.  And, by the way, she was exceptionally cruel in how she mocked my lack of hair for being the ultimate reason why these roles couldn't have been reversed.  LOL!  It's true.  If she was going to braid my hair- it would have to be the hair on legs, toes or under my arms.  There's a delicious visual for you.  You're welcome.
Well, with Angel in my salon chair and a vast array of hair products and accessories at my fingertips, here's how Wacky Wednesday played out.
You can catch Wacky Wednesday each Wednesday morning at 9am on the WBKR Facebook page.  Well, I say that, but the next two weeks I will be on vacation.  However, typically, you can catch a new episode weekly.
We created Wacky Wednesday during the pandemic.  The goal was simple- to give families, kids and friends some hysterically fun challenges to try while at home.  We've had so much fun through Covid-19 quarantine that Wacky Wednesday is now a permanent fixture of our show.
It has become the gift that keeps on giving.
While the No Hands Makeup Challenge is one of our most popular of all-time, this recent challenge has climbed right to the top of the list.  A couple of weeks ago, in the true spirit of summer, we attempted to smash watermelons with our thighs.  I can't event begin to guess how many times, in the last couple of weeks, I have been asked about this in public.
Here's the video that inspired this particular Wacky Wednesday challenge.
Here's how the challenge played out at WBKR.  LOL!
Be on the lookout for more Wacky Wednesday challenges coming soon.  And, sure, we invite you to laugh with us and at us.  But, do this!  Give one a try at home with your kids or at a party with your friends.  If you do, do us a favor in return.  Roll video so we know it's not just us.
KEEP READING: 50 activities to keep kids busy this summer
Goosebumps and other bodily reactions, explained