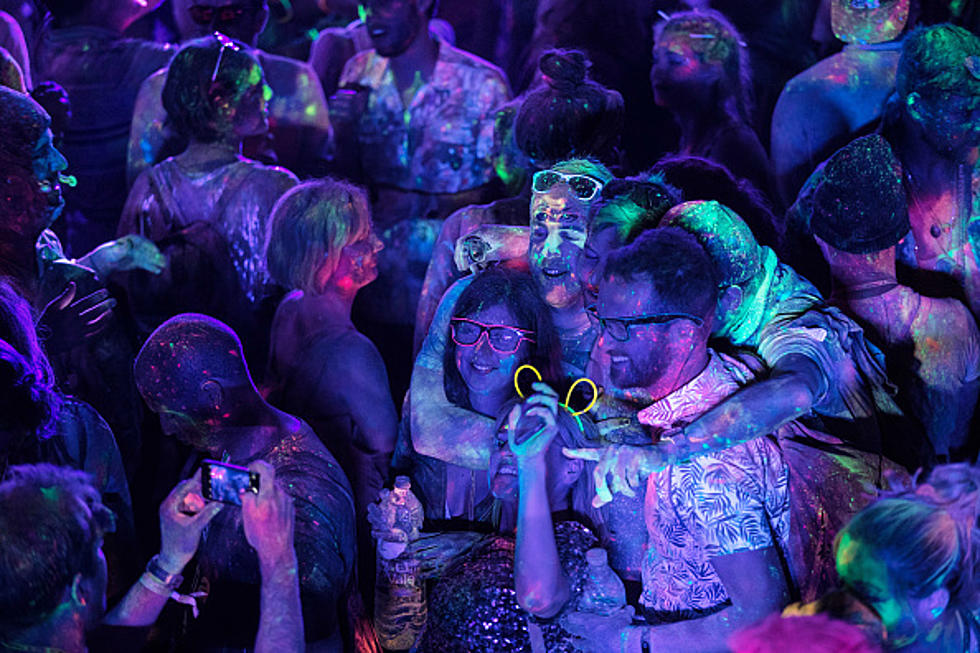 Get Fit and Have Fun at the Black Light Party for Breast Cancer in Kentucky
Matt Cardy/Getty Images
A few years ago, I learned that a dear friend of mine was in Hospice care in Nashville, Tennessee. She had bravely battled Stage IV Breast Cancer, but her body just didn't have the strength to wage that war any longer. I finished the morning show, hopped in my car and drove down to Nashville. I hadn't seen Sarah in years, but it didn't matter. We grew up together and were life-long friends. I had to see her and I had to say goodbye.
I walked into her room and was startled at just how far gone she was.  I had been told that she was in dire shape, but I didn't expect to see that my friend had been so compromised by disease.  A relative told Sarah who I was.  I heard a faint gasp when she heard my name.  She knew me.  She couldn't speak, but she didn't have to.  Her eyes said enough.  We hugged. And we cried.  And I hugged her some more.  Honestly, it was hard to let go.  I kissed Sarah on the forehead when I left to come back home. Days later, I, and a bunch of other mutual friends, gathered at Pleasant Grove Baptist Church, and helped lay our friend to rest. She wasn't even 40.
Anytime I am asked to be a part of or promote a breast cancer awareness event or fundraiser, I am always willing to jump on board. That disease claimed one of my closest childhood friends.  It has tried to claim a few others. Anytime there's an opportunity to rally the troops to beat it, I'm there.  Here's an opportunity for you to join the fight too.
This sounds REALLY fun and I have to give a shout out to my friend Jennifer Berry for letting me know about it so I can share it with you.  Iron Jungle Family Fitness is hosting an incredibly unique Black Light Party.  It's Saturday, October 30th, from 8am to 2pm at IJG on Carlton Drive (right off J.R. Miller Boulevard) here in town.  All the proceeds will be donated to the American Cancer Society.
The "Black Light Party" is exactly what it sound like.  There's going to be a series of exercise classes throughout the event and they're going to take place in black light. Here's the schedule:
Jennifer Berry, from Iron Jungle, joined us on the morning show to chat about her personal connection to breast cancer and how the Black Light Party will work to create awareness.
The Black Light Party is open to ANYONE.  If you're not a member of Iron Jungle, you can obtain a FREE day pass so you can participate in any (or all) of the classes.
In addition to Yoga, POUND and Zumba classes, there will be a 50/50 raffle.  Ticket sales will begin on October 21st and that winner will be drawn at the end of the event (2pm) on October 30th.
Participants will be encouraged to wear white t-shirts (to maximize the black light effect). If you don't have a white t-shirt, some will be sold on site and profits will be donated to ACS.  Costumes are encouraged as well.
As Jennifer says, "Let's have fun and support a great cause."  If you're interested in participating, you're asked to call Iron Jungle at (270) 926-4923 to reserve your space in the class (or classes) of your choice.  Space is limited.

Answers to 25 common COVID-19 vaccine questions
Vaccinations for COVID-19 began being administered in the U.S. on Dec. 14, 2020. The quick rollout came a little more than a year after the virus was first identified in November 2019. The impressive speed with which vaccines were developed has also left a lot of people with a lot of questions. The questions range from the practical—how will I get vaccinated?—to the scientific—how do these vaccines even work?
Keep reading to discover answers to 25 common COVID-19 vaccine questions.
KEEP READING: See 25 natural ways to boost your immune system