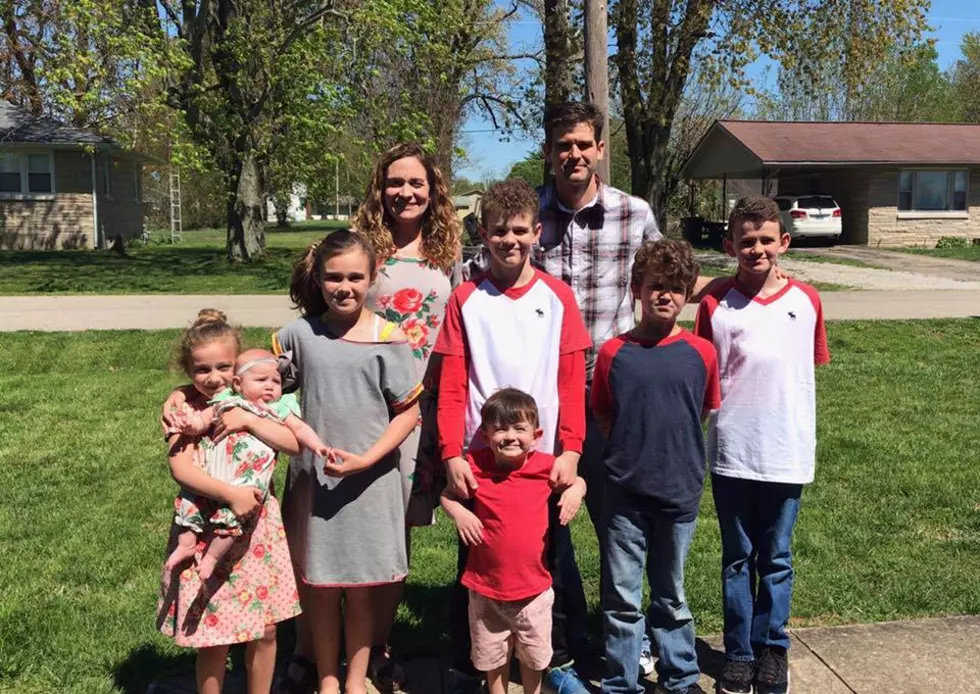 Community Rallies Around Displaced Hawesville Family [PHOTOS]
DeJarnette Family
Neighbors and community members are rallying around a displaced Hawesville family after their home suffered major storm damage on Sunday. The DeJarnette family of nine are facing some huge obstacles, but they aren't doing it alone.
Morgan and Heather DeJarnette bought a 1100 sq ft house in 2009 when they were just a family of four. Flash forward to 2012 with their family growing, they thought about adding more space. They started saving money because there was a plan to add a second story addition. They started building on to the house in 2018 and were excited to make it a home for their now, seven children ages 18 months to 13 years of age. Heather is a school teacher and Morgan works full time at a long term care facility, while also going to school to become a registered Nurse. So, they do most of the work on weekends, or when they have extra time. It's a family affair, as the boys jump in often to help their Dad. It's been a labor of love for the family.
Then Sunday came and went and changed their lives in an instant.
Here's what happened in Heather's own words.
"After we got the trusses on they could see they were that much closer to the finish line. We set out last Monday knowing we had almost a week of no rain to work with because to put our roof on we had to have clear weather. Our house is old and it was difficult pulling the old off to add the new. It took a little longer than expected. The trusses went on beautifully Saturday and they finished right before sun down. We knew there was a slight chance for rain so they got up early and worked as fast as possible. As the day went on the chance for rain increased and then around 6:00 a down poor hit and it was so defeating. My poor children were throwing towels and blankets all over the place trying to "catch" the water, but there was nothing they could do but watch the house we were currently lived in literally fall to pieces." She went on to add, "We didn't tell anyone. We were going to face this obstacle on our own."
"The next day people started showing up to help and I had no clue how they knew. At first I was like we are okay, we can do this, we don't need help. But, they just kept coming and helping clean up, bringing food, putting on roofing, and then asking what next. I am so very humbled. So very thankful for each and every one of you."
"We have also learned that we can't do it all ourselves as much as we want to we can't. You all have been so kind to us and I am so very thankful for everyone that has prayed, donated time,skills, food, money, a shoulder to cry on. It is all so much appreciated."
I thank you from the very bottom of my heart.
We thank you.
As you can imagine, insurance won't cover the damage. This is where you come in. The family will need any skilled help that is available in the coming days and weeks. If you would like to make a donation to help the family that would be amazing, since they lost so much. They need a plan quickly as the family is broken apart and staying with different relatives. This amazing family needs to all be under one roof and soon.
If you would like to volunteer, you can call Heather at 270-302-8106 or Morgan at 270-316-5392. If you don't get an answer, please just leave them a message.
Storm Damages DeJarnette Family Home
Enter your number to get our free mobile app