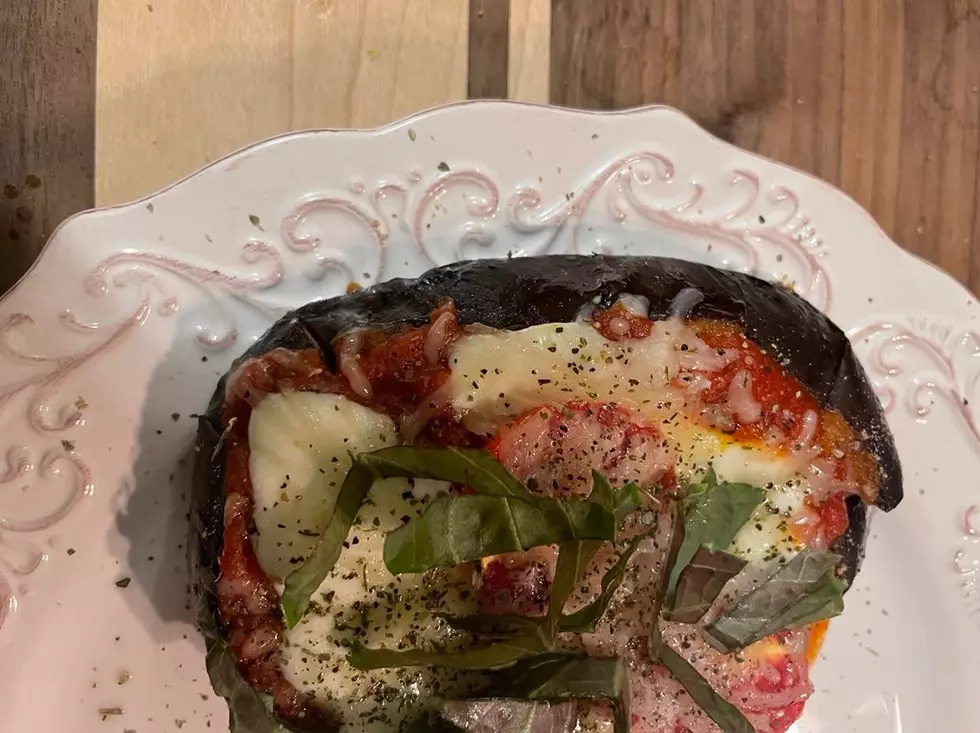 This Eggplant Parmesan Recipe is So Easy It Will Change Your Life
Merritt Bates-Thomas
Yes! This is as delicious as it looks.  And you won't believe just how easy this Eggplant Parmesan recipe is. You can throw it in the oven on a sheet pan and bake it up in no time. It's quick, easy and absolutely delicious.
This week, Merritt Bates-Thomas, from the Green River District Health Department, joined us for our weekly What's Cookin'? segment. The goal of that segment? To give you simple, but delicious recipes that you can try at home. And, when Merritt joins us, she always brings a recipe that is relatively healthy and good for you. This Eggplant Parmesan recipe is no exception.
Of course, the star of the show is the eggplant!
Here's how to make it.
SHEET PAN EGGPLANT PARMESAN
1 medium to large eggplant
1/2 teaspoon of salt
1/2 cup Italian breadcrumbs
1 - 2 tablespoons olive oil
1 cup marinara sauce
4 - 5 slices of fresh mozzarella
1/4 - 1/2 tsp ground Italian seasoning
1 medium fresh tomato, diced
1/3 cup shredded parmesan cheese
5 fresh basil leaves, minced or sliced
DIRECTIONS:
Preheat your oven to 400 degrees F.
Slice eggplant into 4 to 6 1-inch eggplant "steaks".   The number depends on the size of your eggplant.
On one side of the eggplant steaks, cut into the slice vertically about halfway as if you are going to cut it. Repeat the cuts horizontally about halfway, as if you are cubing the eggplant, without cutting through the slice.
Lightly salt both sides of the eggplant and place on a paper towel to pull water out of the slices before cooking - about 30 minutes total.  At 15 minutes, flip the eggplant slices on the paper towel to the other side.
Line a baking sheet with parchment paper and lightly drizzle with olive oil.  Lightly coat eggplant slices with breadcrumbs and place them scored side down on the baking sheet.
Reduce oven temperature to 350 degrees F and place eggplant in the oven for 10 minutes.  Flip eggplant to the other side and cook for another 10 minutes.  Remove from oven.
With a fork lightly press each eggplant slice to slightly reduce thickness.  Spoon marinara sauce over each eggplant slice.  Tear fresh mozzarella slices into pieces and dot eggplant slices evenly.  Add a small amount of Italian seasoning to each slice.  Add diced fresh tomato to each slice and return to the oven for an additional 15 to 20 minutes or until the marinara sauce bubbles and mozzarella begins to lightly brown or caramelize.
Remove from oven and garnish with shredded parmesan and fresh basil.
This recipe is so easy to modify depending on the number of servings you want to prepare.  It is delicious served with angel hair, spaghetti, or linguine noodles with additional marinara.  A salad finishes the meal.
And, for some extra deliciousness, here are a couple of more Eggplant Parmesan recipes for you. The first is from one of my favorite Food Network stars- Alex Guarnaschelli.
And here's one more for you!
What's Cookin'? is sponsored weekly by Kentucky Legend, home to the award-winning Kentucky Legend Ham.  For some delicious Kentucky Legend recipes, CLICK HERE!
LOOK: Here are copycat recipes from 20 of the most popular fast food restaurants in America