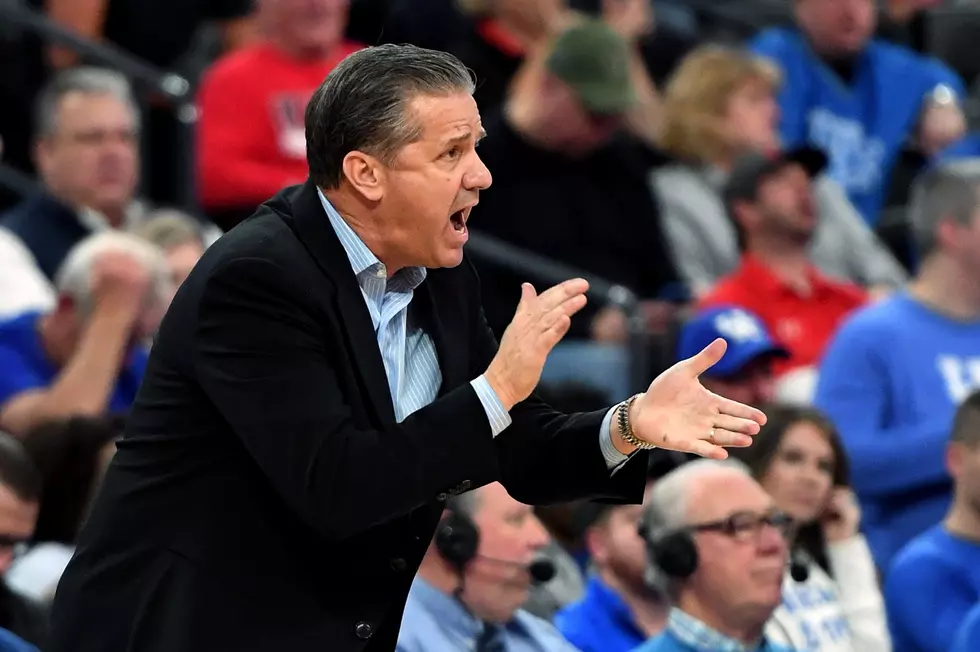 John Calipari Clarifies Reaction to Coach K's COVID/Hoops Season Comment
Ethan Miller/Getty Images
ACT !
When Duke basketball coach Mike Krzyzewski speaks, sports media listens. It's like those old E.F. Hutton commercials.
When you've won five national championships and more Division I games than anyone else, you're afforded that luxury.
Back in August, Coach K correctly made the assertion that the NCAA could not afford to cancel another NCAA Tournament. It cost the organization hundreds of millions of dollars in 2020. There is so much the NCAA does for the student athlete, so a loss like that is devastating.
But the legendary coach is singing a slightly different tune now. After his Blue Devils took a 15-point home loss to Illinois the other night, Coach K wondered aloud if the season should even continue. And folks were quick to jump all over that comment--many saying he only feels that way because his team has already taken two home losses (the other was to Michigan State).
Okay, full disclosure. I am NOT a Duke fan. Never have been. Now, let's set that aside. Sure, to the casual eye it LOOKS like he's taking his ball and going home. But why can't the man be genuinely concerned about his players' mental health and want them to spend time with their families at Christmas?
Other coaches operate in other ways. That's THEIR business, too.
And I'm sure eyebrows were once again raised when the decision was made to cancel the rest of Duke's non-conference season. But, with all due respect to Charleston Southern and Gardner Webb (the only two remaining non-con opponents ON the Blue Devils' schedule), I can't imagine Krzyzewski was terribly concerned about those games, even though he'd never admit it, and shouldn't.
So, okay, that's all out there.
ACT II
Among the coaches that were asked to comment on Coach K's remarks was John Calipari. It always seems they run to Coach Cal whenever Krzyzewski says anything, so this is no surprise.
247Sports reports that Calipari believes the season should go on. He believes it's good for the players to be able to play in a safe environment. He also noted that Lexington's hospitals are top flight and that the 'Cats would be in great hands should they need medical attention of any kind.
But when he said, "And they move to the front of the line and get the best care," those who LIVE on social media, stalking any comment on which they can pounce, he got the kind of blowback Calipari should be used to getting by now.
Today, he clarified that comment:
(Heavy sigh)
The reason I separated this story into two acts is because 2020 has turned into what feels like this BIG Shakespearean melodrama in which Twitter Trolls and Facebook Fanatics cannot WAIT to get "on stage" and utter their vitriolic dialogue.
How do I feel about the season commencing? I think it's a good idea if they can do it as safely as possible. So far, more than 50 college basketball games have been cancelled or postponed due to COVID-19--whether because of positive tests or contact tracing protocols.
That's fine. If that's what it takes, that's fine. There WILL be cancellations. And, I believe--and I've written about this--there WILL be forfeits when we get into tournament situations, because there will be no time to make up the games.
But I guess polarizing figures can be polarizing whether aim to be or not. And I guess anything Calipari or Krzyzewski says will always be put under a microscope for all to dissect and, well, lose their minds over.
Play on. Or don't. That's THEIR call.
Enter your number to get our free mobile app
CHECK IT OUT: 100 sports records and the stories behind them