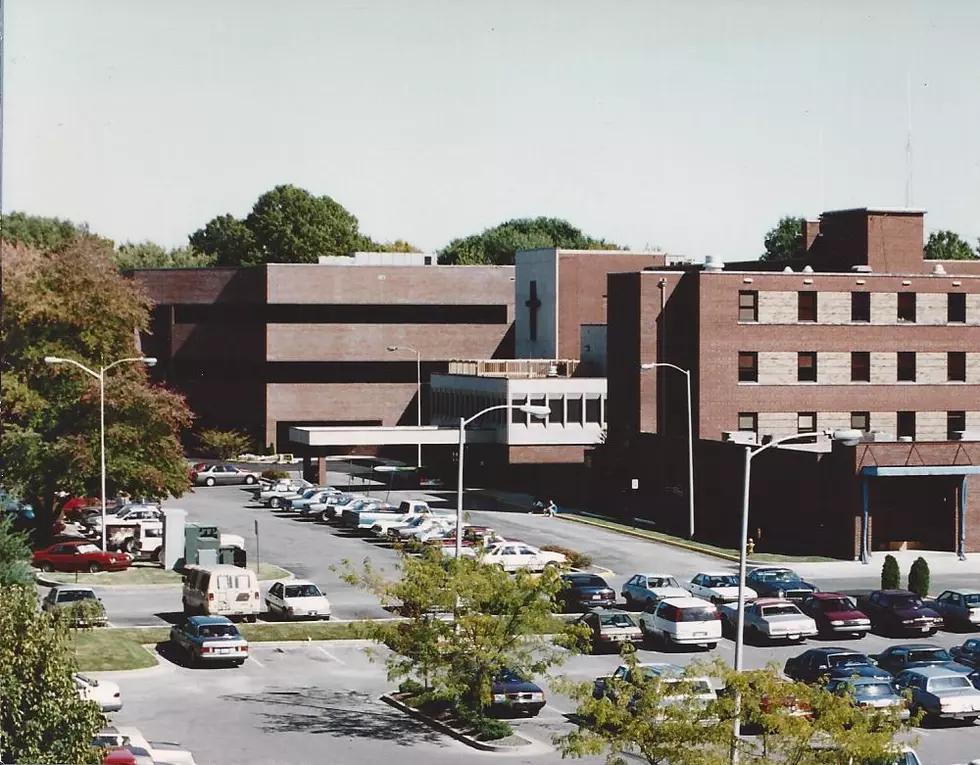 There's a Mercy Hospital Reunion This October in Owensboro, KY
Linda Ballard/Facebook
When I was in the 3rd grade, I had to get my tonsils removed and guess where I had my surgery? Somewhere in that building that's featured in the photo above. Yes! I spent a night at Mercy Hospital post-op. I vividly remember waking up from my surgery and my throat feeling really tight and raw. I also remember how quickly I realized that eating the Mercy Hospital pudding and popsicles made it feel 1000x better.  I also remember getting a huge envelope of handmade cards from my classmates at Thruston Elementary.  Mrs. Hayden's entire class sent me "Get Well Soon" wishes.  I thought that was awesome and, honestly, my mom still has those cards in storage.  She sent me a photo of them.
A lot of us here in Owensboro-Daviess County have fond memories of Mercy Hospital, which used to sit where the Owensboro Health Healthpark sits now- at 1006 Ford Avenue in the heart of town. Many of you may have started your lives there. Actually, now that I think about it, wasn't Johnny Depp born there?  Isn't that part of his Owensboro claim to fame?
My friend Karla Ward, Owensboro Athena Award winner and Executive Director of New Beginnings here in town, used to work there.  I wasn't aware of that until she informed me this week. She actually spent three years at Mercy during college and worked as a staffing secretary.  It was her job "to make sure the floors had enough coverage of nurses and unit clerks." Karla says they used to have to type up the schedule, by floor, each Sunday through Saturday on a piece of poster board about 2 feet by 4 feet on a "old school typewriter".
As a matter of fact, Karla is planning to attend a Mercy Hospital reunion, which is set for later this year at Legion Park here in town. That reunion will take place in the East Shelter there, which is the shelter located closest to the basketball court on Byers Avenue.
That reunion, as it has been three or four times previously, is coordinated by Linda Ballard.
Linda started working at Mercy Hospital way back in 1966. She says, "When I first started working there, I couldn't even read a thermometer."  By the time she left however, in 1987, she was an RN.  Roughly a decade later, Mercy Hospital closed its doors.
I asked Linda what inspired and prompted her to create the Mercy Hospital Reunion and her answer was simple really. She says, "We were all a family."  Many members of that Mercy family remain in touch to this day, through a Mercy Hospital Facebook page and reunions like the one Linda is hosting at Legion Park in October.
Linda says that she and her former coworkers, a bunch of them, to this day, would literally stop what they're doing and be there for each other if something happened and "family" was needed. So, I guess it's appropriate to say that the big Mercy Hospital reunion is really a "family reunion" of sorts and Linda's expecting about 50 to 60 of those Mercy family members to come to the park for food, fun and great memories of their time at the hospital.
As usual, Linda's providing the meat, the paper products, the plasticware and a cooler full of ice. Everyone else is asked to chip in potluck style and bring a side dish or dessert. Gosh! This does sound like a family reunion.
The 2022 Mercy Hospital Reunion is set for 11am to 4pm on Saturday, October 15th.  As Linda shared on the event Facebook page, "Plan on being there, laughing, eating and seeing each other."  I wonder if they'll mind if a 50-year-old Mercy tonsillectomy patient to show up to eat some pudding and popsicles?
26 Images That Show How Owensboro Has Changed Over the Years
While driving in parts of Owensboro that have undergone changes, have you ever said to yourself, "I can't remember what it used to look like here"? Well, I'm here to help.