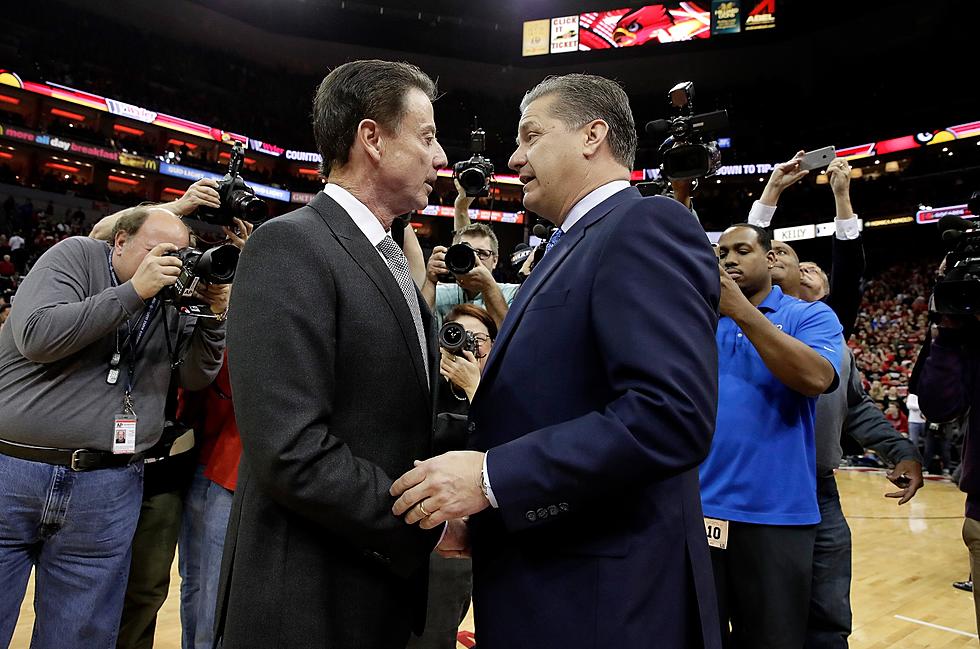 NCAA Tournament: Rick Pitino In, UK and Louisville Out
Andy Lyons/Getty Images
Last year, when the COVID-19 pandemic forced the cancellation of the NCAA Tournament, I was stunned.
I mean, literally. I just sat there and stared into space thinking of the ramifications. I believe THAT may have been what made the pandemic really sink in for people--the cancellation of an event none of us thought would EVER be cancelled.
So I have been relishing every single moment of the 2020-2021 college basketball season. This past week--the conference tournaments filled with GREAT games, the selection of the 68 teams for the tournament--has been a big ol' slice of heaven.
And yesterday, Selection Sunday, was like Christmas for me. It actually always is, but this year it was extra special since we didn't have one last year.
I love making out my own bracket--I list the regions in columns and fill in the teams as they are announced--and taking a look at the upcoming matchups as they unfold on paper.
And there are always interesting facts about each NCAA Tournament bracket.
This year, there are two HUGE elephants NOT in the room. There is no Duke and there is no Kentucky for the first time in 45 years. Also, surprisingly enough, there is no LOUISVILLE. I honestly thought the Cardinals would slip in at the end and participate in a play-in game, but no. That leaves Morehead State as the lone representative from the basketball-crazy Commonwealth. Who'd a thunk it? Go Eagles!
But this year's bracket is also loaded with irony...and of the COLD-BLOODED variety.
In 2017, college basketball blew up with a massive fraud and corruption scandal that involved a great many Division I programs, some of whom have yet to be notified of their specific charges.
Rick Pitino was fired in October of that year after allegations that $100,000 was paid to the family of a Louisville recruit. Pitino maintains he was unaware of the transaction. However, last year, in an ESPN interview, he admitted he deserved to be fired due to his failure to be a proper leader of the Cardinal program.
That interview coincided with his hiring at Iona College, a tiny Catholic school in New Rochelle, New York. He had coached in Greece and was ready to come back home and lead a collegiate hoops program.
Nobody, myself included, thought he'd get a job as quickly as he did.
Well, one year later, Iona College is in the NCAA Tournament after finishing NINTH in the MAAC Conference and winning its league tournament.
And just like that, we have a Big Dance that features Rick Pitino but NEITHER blue-blood Kentucky team he led to national titles.
You gotta love March.
Madness, indeed.
CHECK IT OUT: 100 sports records and the stories behind them