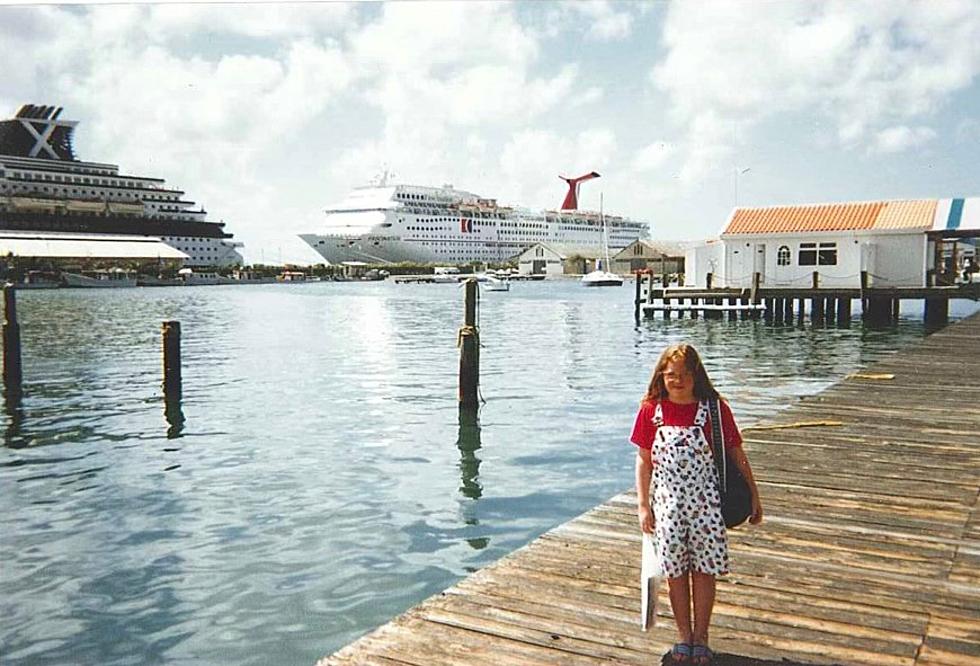 Owensboro Woman Shares Hilarious Memories of Her 3rd Grade Spring Break Cruise
Mary-Katherine Maddox
Here in western Kentucky, many schools are closing down for Spring Break and many families around the area are packing their bags, loading up their cars and heading south to a variety of destinations.  One of the most popular vacation spots for 'breakers' here in Owensboro-Daviess County is Panama City Beach, Florida and nearby areas in the Gulf Coast of Florida- Destin, Fort Walton. In fact, this weekend, there will be a virtual mass exodus here- families rolling out of town and heading to the Panhandle.
I'll be honest. When I was a kid, my family didn't have a lot of money. I don't ever recall going on Spring Break. Truly! I don't remember a single Spring Break vacation. If we went anywhere, it would have been some place like Opryland in Nashville.
By the way, I friggin' loved Opryland and am one of those people who wishes it was still around.  I recently rank-ordered all the rides and attractions from the park.  No, I can't (and won't) let it go. That was my "vacation" destination when I was a kid.
Speaking of holding onto some great memories, my friend Mary-Katherine Maddox has a fantastic Spring Break story. Like me, she didn't get to go on many vacations, but she went on an epic one, albeit by default, when she was in the 3rd Grade. That's when she and her dad Jerry went on a cruise aboard the Carnival Fascination.
Her dad won the trip from a wholesaler with Wetzel's grocery stories. Jerry worked at Wetzel's.  His nickname was "The Meat Man." Because her mom gets horribly seasick, Mary-Katherine got to take her place on the trip. It was Mary-Katherine's very first cruise and her earliest vacation memory.
And while the idea of taking a cruise in the 3rd Grade is awesome, that's not the best part of Mary-Katherine's story. Carnival has a reputation for being a great cruise line for families and kids. For example, all their ships offer Camp Carnival, which keeps young cruisers entertained with all sorts of onboard activities- like scavenger hunts and more.
Mary-Katherine's ship had a Kids Club Talent Show and, because she grew up a singer and theatre kid, she decided to compete in it.
In Mary-Katherine's words, "Other kids were singing church songs and playing piano." She specifically remembers one boy playing "Amazing Grace" on the piano. She remembers a young girl singing the rather depressing "Castle on a Cloud" from Les Miserables. That wasn't exactly how Mary-Katherine decided to roll.
So, what did Mary-Katherine sing in the show?  Wait for it.  Wait for it!  She belted out Mariah Carey's song "Fantasy!"
She performed that song while wearing her "Save the Otters" t-shirt.  And if that isn't funny enough, her backup song was this one. LOL!
Though Mary-Katherine didn't win the show, she did stand loud and proud on that Carnival Fascination stage and belt out some Mariah Carey!
Looking back, Mary-Katherine says, "I stood right there the whole time and sang the song!"
Well, there's no doubt she made her dad Jerry very proud! And all these years later, Mary-Katherine still remembers that amazing Spring Break.
Look at her! She may not have been the Queen of Talent Night, but she was the Queen of the Fascination.
LOOK: 25 must-visit hidden gems from across the US
From secret gardens to underground caves,
Stacker
compiled a list of 25 must-visit hidden gems from across the United States using travel guides, news articles, and company websites.