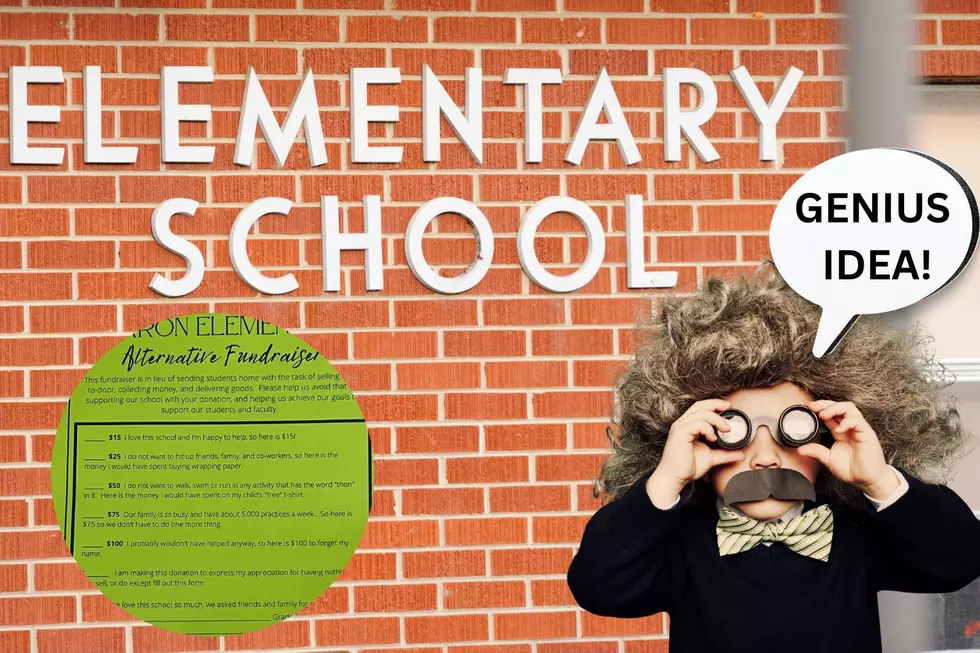 Why This Indiana Elementary School Created Best/Funniest Fundraising Idea EVER
JESSICA JOY MACHEN
Parents let's all come to terms with the fact most of us dislike fundraisers.  We all wish we had an alternative to the madness of spending tons of money for a toy worth pennies.
WE ALL WANTED THE COOL PRIZES WHEN WE WERE KIDS RIGHT?!
I think we are all in the same boat when I say "we all wanted the cool prize" right?  It's true.  Looking back on it all I had no concept of how much the prize was worth in relation to how much people were spending on the stuff in those catalogs.  Now that I'm a parent I realize the horrified and a bit nauseous look on my mom's face when I pulled those books out of my backpack was actually validated.
She knew she was going to have to buy something we didn't need or really couldn't use or that she could honestly by for a whole lot less at an actual store
DON'T KIDS HAVE ENOUGH TO DO ALREADY AND I KNEW AS A PARENT I DO
The afternoons are already stressful enough when my kids roll out of school with reading homework, math homework, words and whatever else they have to do.  Then add fundraising to the list and it can seriously push a parent to their limits.  I would never and don't expect my kiddos to go door to door and who has time to call or visit 10 people to ackwardly ask them if they want to purchase something.  I completely understand schools need to make extra money for needed items but isn't their a better way to do it?
INDIANA ELEMENTARY SCHOOL HAS GENIUS ALTERNATIVE TO FUNDRAISING
I have said for years that I wished we could just write a check to the school and opt out of fundraisers.  Heck, just let me give you money at the beginning of the year so that my kid doesn't have to sell anything.  It's genius.  You completely avoid disappointing your kid when they don't sell 10,000 items to get that squishy ball that you can buy at the Dollar Tree for $1.25.  It's a win-win really.
Well, parents one school in Indiana heard our prayers and our distress cry.  Sharon Elementary School in Newburgh, Indiana sent home an 'Alternative' Fundraising form that has parents jumping for joy and truly I feell like maybe someone somewhere has been listening to my wishes.
The flyer reads;
This fundraiser is in lieu of sending students home with the task of selling door-to-door, collecting money, and delivering goods. Please help us avoid that by supporting our school with your donation, and helping us to achieve our goals to support our students and faculty.
THIS IS AWESOME!!!!!
ENDING ON A HIGH NOTE
I will always support my kids.  I'll support their school.  And major kudos to the parents and kids who sell their little hearts out.  That just isn't our family and we make no apologies about it.  It's not that we don't love our school we just have bills to pay and we like to eat.  But I am sure one way or another I will be buying some delicious cookie dough I. DO. NOT. NEED. in the next week or two....UGH!