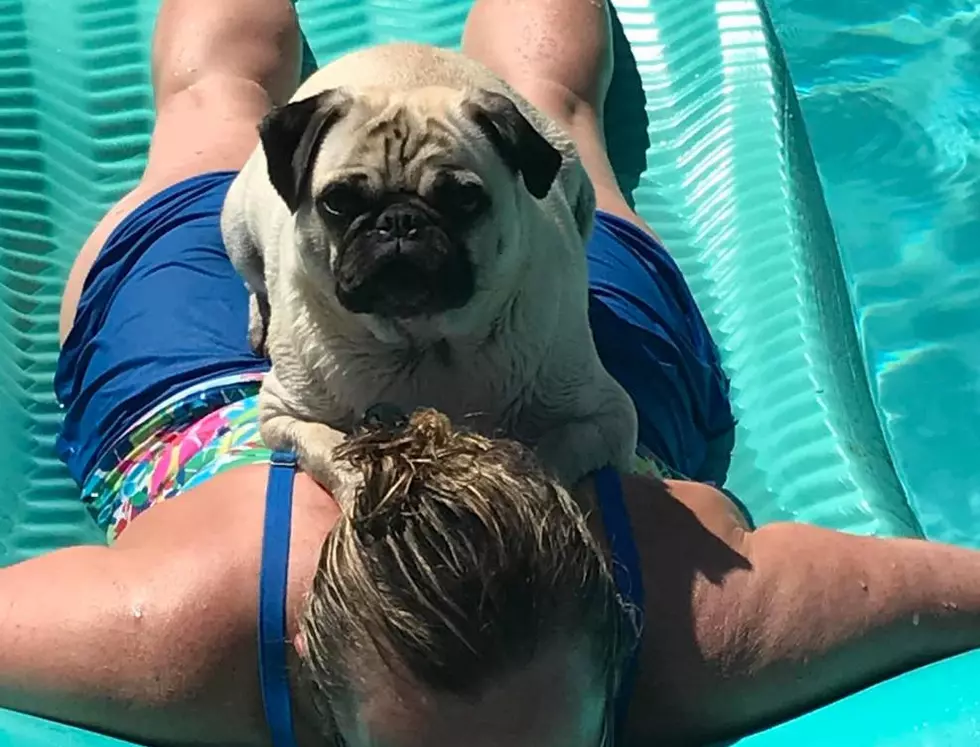 Meet Charlie: The Adorable Kentucky Pug Who Loves to Go Swimming
Corey Walkosak Morgan
Memorial Day Weekend marked the unofficial start of the summer season and my longtime friend Corey Walkosak Morgan (shout out to the Daviess County High School Class of '89) kicked it off like a bunch of people did. She headed to the pool and spent the day swimming, lounging around the deck and floating on a raft. And, she had a sidekick along for the fun. Yep! She was joined by her pug.
Meet Charlie!
How freaking cute is that dog?  And, can we just get a timeout here? That dog had a more relaxing weekend than I did. I mean, look at him.  Charlie is completely living the life. He might as well be sprawled out at an all-inclusive resort in Cancun.  Someone bring that dog some chips and salsa, a Snausage quesadilla and a margarita.
As Corey explained in her Facebook post about Charlie's big Memorial Day, the holiday was all about "funnin' and sunnin' at Aunt Shelly's pool!"
And Charlie certainly did his share of "sunnin"!
Corey says, "Charlie loves lounging by and in the pool on a hot day.… he gets it from his momma."  Well, as you can see, he joined his momma on the raft for a big chunk of the day.
Corey got Charlie back in March of 2021 and they've been pretty inseparable since. As you can see, they certainly have the love of funnin' and sunnin' in common.
60 Adorable Photos of Dogs Wearing Sweaters
To celebrate National Dress Up Your Pet Day, I asked my friends if their dogs ever wear sweaters. The overwhelming answer was "Yes" and we have dozens of photos to prove it.