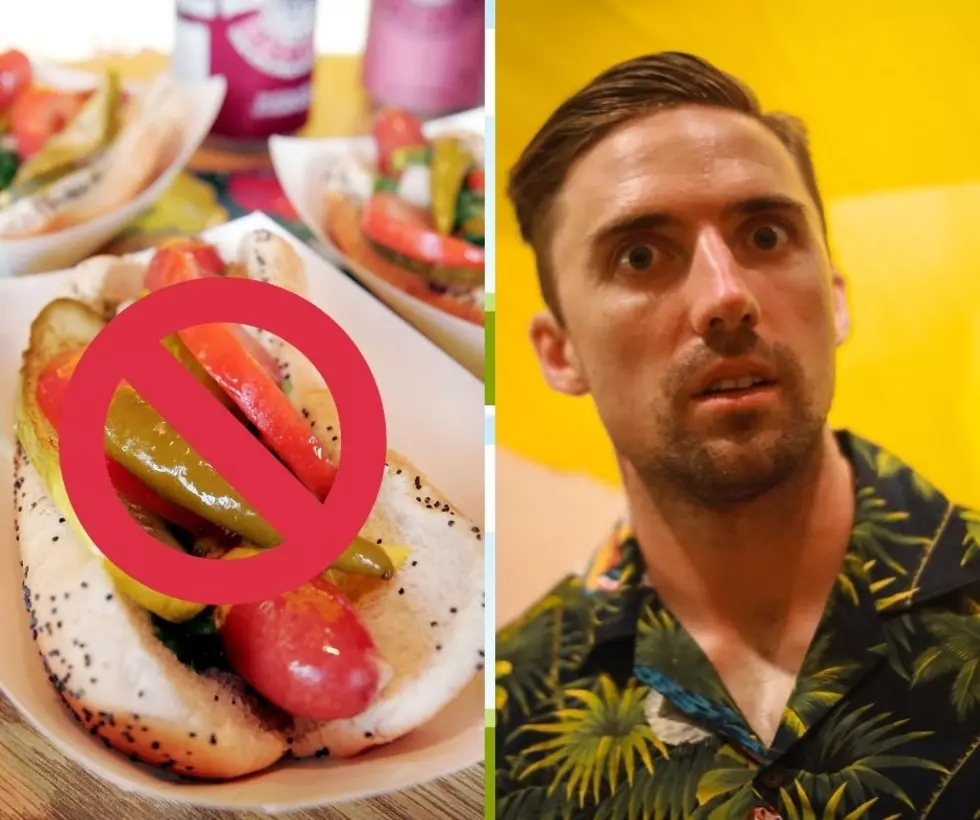 Did Famous IL Hot Dog Stand Make A Mistake Bigger Than Ketchup?
Canva
There are rules when it comes to hot dogs in Illinois and I think a major one just got broken by a popular restaurant.
Illinois And Chicago Are Popular With Foodies
When it comes to a foodie state, I think Illinois with the help of Chicago is one of the top in the United States. There are so many amazing restaurants serving delicious meals here. Think of all the tasty dishes that got their start in the Land of Lincoln. I'm talking about legendary items like deep-dish pizza and the Italian Beef sandwich to name just a couple.
The Top Of The Illinois Food List
Illinois is known for its famous hot dogs. Of course, leading the pack is the Chicago Style Hot Dog. What are the ingredients for it?
According to simplerecipes.com,
It's loaded with yellow mustard, sweet pickle relish, tomatoes, onions, dill pickles, sport peppers, and finished with celery salt.

 
You might have noticed, that there is no ketchup on a Chicago Style Hot Dog. That is strictly prohibited. If you put it on your dog, prepared to be ridiculed. Until recently, I thought that is the biggest hot dog mistake you could make.
If no ketchup is the number one rule of hot dogs, then this must be the second most important.
The hot dog must be an all-beef with a natural casing, which gives it a nice snap when you bite into it.

 
The Most Famous Place To Get A Chicago Style Hot Dog In Illinois
Of course, when someone is visiting Illinois, they want to try one of these popular hot dogs. There are so many great places to order them in the city but if you're not from the city, you would probably want to hit the most famous of them all. That is Portillo's
Portillo's definitely knows the rules about Chicago Style Hot Dogs. They would never put ketchup on one. What about the second rule about all-beef? We may have a problem.
Portillo's new plant-based hot dog is made with 100% plant-based protein.
Is This A Bigger Rule Breaker Than Ketchup On A Hot Dog?
If putting ketchup on a Chicago Style Hot Dog is a big no-no, what about a plant-based one. I know some old-school fans that are going to be very upset about it. Depending on who you ask, this could be an even bigger problem.
How do you feel about it? I really don't think it's a big deal. Personally, I don't like all of the stuff on it. Honestly, I enjoy ketchup on hot dogs. I know I'm going to take some heat for that. I suggest just eating a hot dog the way you enjoy it. Don't worry about what other people say.
For more info about the Garden Dog, HERE.
5 'Must-Have' Chicago Hot Dog Experiences That Will Change Your Life
One look at these five Chicago hot dog spots and you will start to feel something move inside you. That's your hunger. Come eat and your life will never be the same.
20 Unofficial Food Rules People of Illinois Agree On
One of these food rules was broken recently on The Steve Shannon Show. It was a big one. We quickly realized it is one of many 'unofficial' rules.
7 Foods You Didn't Know Were Official State Foods of Illinois & Wisconsin
Wisconsin and Illinois' official state foods you probably didn't know about.
You Cannot Visit Illinois Without Trying These 5 Iconic Foods
Welcome to Illinois. While you're here, we're going to make sure you eat well. Not just delicious food, but the most important foods our state offers.