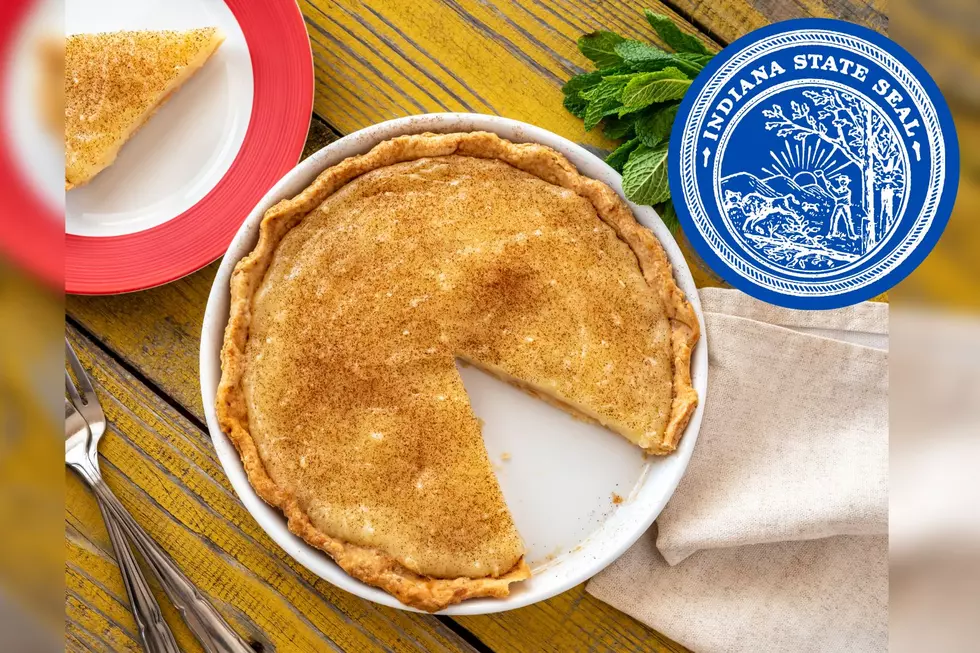 Indiana Has an Official State Pie and it Looks Delicious
Canva
Each state has different things that are named official representations of that state. For instance, the official state bird of Indiana and Kentucky is the Cardinal. The Indiana State river is the Wabash River. There is even a state flower of Indiana, the Peony.
But, did you know there is also an official Indiana state pie? No? I'm from Indiana and I had no idea the state I grew up in had a state pie.
As I was scrolling through my Facebook groups, I can across a post from a Terre Haute, IN, group that I belong to. The post said the official Indiana state pie is the Hoosier Pie. Appropriate name, Right?!?
According to Dot Lewis, the administrator for the Haute Hodgepodge: Terre Haute, Vigo County & Wabash Valley, Indiana Facebook group,
Also known as Hoosier Pie, a resolution to name the sugar cream pie as Indiana's State Pie passed in the State Senate in 2009. This Indiana tradition harkens back to early households including Quaker, Amish, and Shaker communities.
It's believed the recipe was brought to eastern Indiana around 1810 by North Carolina Quakers, who settled in the Richmond, Winchester, New Castle, and Portland areas.
It's also known as finger pie (you can mix it with your fingers), transparent pie, Hoosier pie, and desperation pie (when fruit wasn't available or money was tight and you really wanted a piece of pie). It's made with simple ingredients you should already have on hand -- and in the early days that would mean a cow and sugar. Pie purists agree a true sugar cream pie doesn't include eggs.
 What you need to make a Hoosier Pie
I found a five-star recipe for Hoosier Pie on the website, Saving Dessert. It sounds and looks delicious. I was surprised the recipe called for no eggs. Here is what you will need to make the official pie.
Ingredients
1

 

single, pre-baked pie crust
For the pie filling:
4 ½

 

tablespoons

 

cornstarch

1

 

cup

 

granulated sugar

 

(222g)

1

 

pinch

 

of salt

3

 

cups

 

heavy cream

 

(24oz)

5

 

tablespoons

 

unsalted butter,

 

cut into cubes (75g)

1

 

tablespoon

 

vanilla extract

 

or vanilla bean paste
For the topping:
2

 

tablespoons

 

unsalted butter,

 

melted

1

 

teaspoon

 

ground cinnamon

¼

 

teaspoon

 

ground nutmeg
Get the instructions, HERE.
 See more official Indiana symbols and emblems,
HERE
.
KEEP READING: 3-ingredient recipes you can make right now