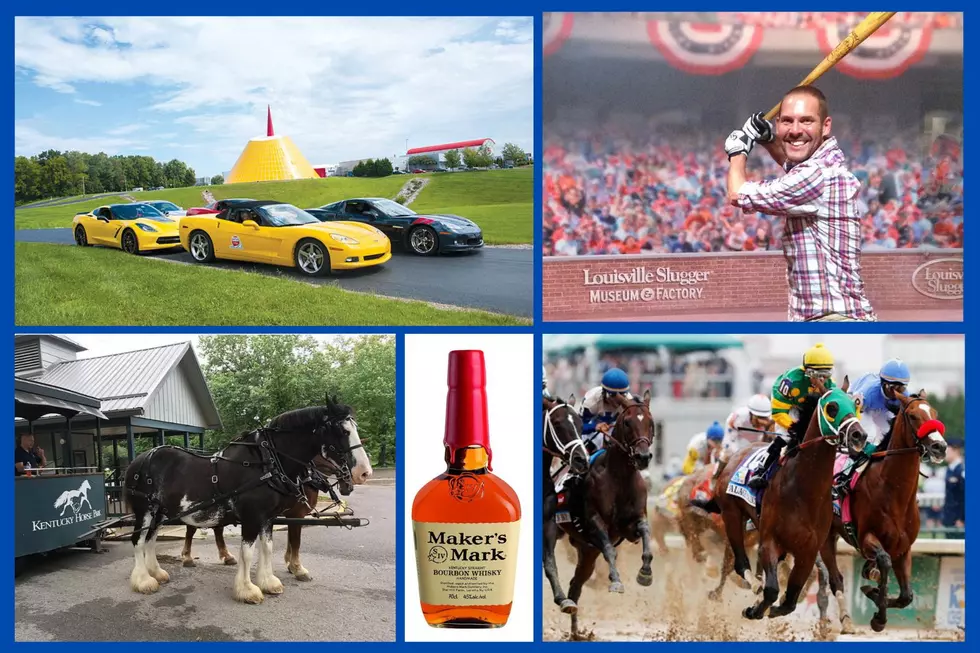 These are the Top Ten Things You Absolutely Have to Do in Kentucky
Getty Images / Sam's Club / Ashley S / Chad Benefield / Corvette Museum
I love to travel.  I jump at any chance I have to get out of town and out of the state. When I plan vacations, I routinely consult Tripadvisor to see what users are recommending as the "must see" and "must visit" attractions in the places I am going. I am my own travel agent. I love to research the places I am visiting and base my agenda on the things that I find that look the most engaging, fun and adventurous.
Naturally, that got me wondering. As a Kentucky native, what are things Tripadvisor recommends as "must see" attractions here?  So, I checked it out.
Here are The Top Ten Things to Do in Kentucky- according to Tripadvisor. And, because it's so close to my hometown of Owensboro, I had to include an honorable mention as well. So, I suppose these are the Top Eleven Things to Do in Kentucky.
#11- NATIONAL CORVETTE MUSEUM (Bowling Green)
#10- KENTUCKY HORSE PARK (Lexington)
When I was younger, I ran cross country for Daviess County Middle School. Our state championship was held at the Kentucky Horse Park. I vividly remember how beautiful the rolling grounds are even though I was gasping for air and racing for the finish line as I was running across them.
#9- MAMMOTH CAVE (Park City)
Can I make a confession? Though I only live about an hour from Mammoth Cave, I have never been to it. Considering the fact that it's the "world's longest cave", I am embarrassed to admit that I have never experienced it in person. But, the folks who have love it. That's why it ranks #8 on Tripadvisor.
#7- CHURCHILL DOWNS (Louisville)
I'm sure you guessed that the home of the Kentucky Derby was going to make this list. Situated in an old Louisville neighborhood, the track is steep in tradition.
#6- KENTUCKY DERBY MUSEUM (Louisville)

I'm sure you also guessed that the Kentucky Derby Museum, which pays tribute to the storied history of the "Greatest Two Minutes in Sports", would be on the list too.
#5- LOST RIVER CAVE (Bowling Green)
Another Top 11 destination just an hour south of my hometown of Owensboro (which, sadly, didn't have any of its attractions make the list), Lost River Cave is an exciting underground, aquatic adventure.
#4- KEENELAND
It's interesting that Keeneland ranks higher on the list than its more famous sister track, Churchill Downs, but it's in the heart of Lexington's thoroughbred country. I should also point out that many of the racing scenes in the movies Seabiscuit and Secretariat were filmed here. The track is stunning!
#3- MAKER'S MARK (Loretto)
Kentucky, home to the now world-famous Bourbon Trail, is full of distilleries. It's hard to imagine that any is more famous and popular than Maker's Mark. I remember touring it with friends from Maine years ago. It was one of THE places they wanted to visit when they were in the Commonwealth.
#2- LOUISVILLE SLUGGER MUSEUM & FACTORY
I grew up playing baseball in western Kentucky and, like most athletes my age, I was obsessed with the brand Louisville Slugger. That obsession has carried over into adulthood and I have visited the museum and have the cheesy pic to prove it!
A visit to the museum is a hands-on experience. You can glove up, grab a bat and head into the Louisville Slugger batting cages.
#1- LOUISVILLE MEGA CAVERN (Louisville)
A newer attraction in Kentucky, but one that has become a tourist (and local) go-to.  If you like zip-lining, you are going to love this exhilarating, underground experience!
At, at Christmas time, you can drive through a ridiculously festive holiday light display!
There you have them! The Top Eleven Things to Do in Kentucky based on Tripadvisor user ratings.
LOOK: Must-do activities at every national park
Stacker
lists the must-do activities at every national park ranked by the annual number of visitors.