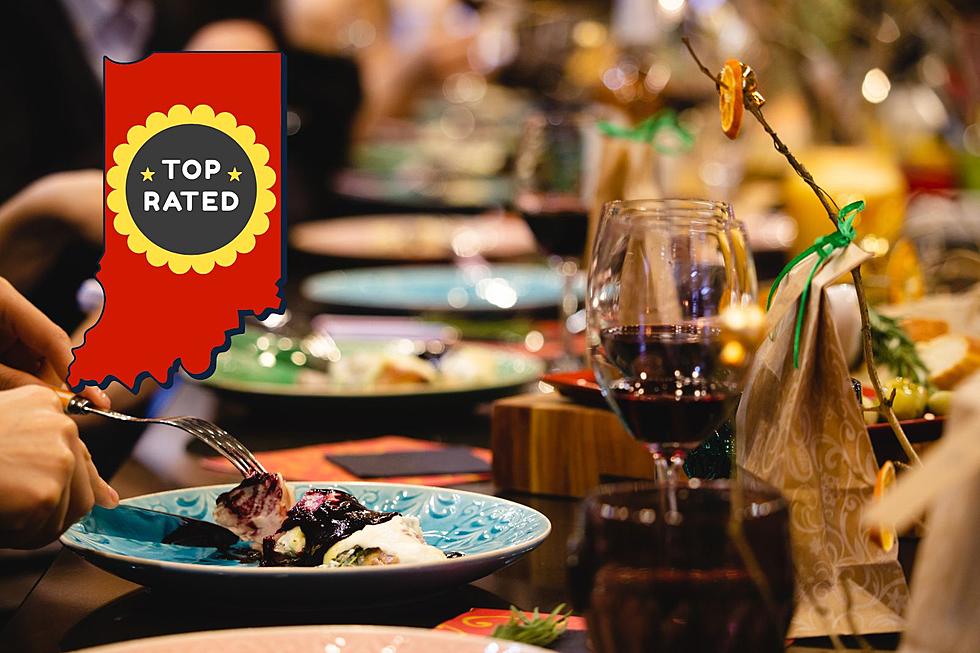 Only 2 Restaurants in Indiana Ranked in Top 100 in the U.S. in 2023
Canva
Indiana is full of a lot of great restaurants, but only two of them were represented in 2023's top 100 restaurants in the United States list.
We all have our favorite restaurants to dine at in Indiana. There are so many options to choose from. Whether it be chain restaurants or local businesses, there are no shortages of great food here in Indiana.
Yelp recently released its list of Top 100 US Restaurants in 2023. Most of these restaurants are found in California, Texas, and Florida. However, there were two restaurants on this list that can be found right here in Indiana. Before we get into those two restaurants, it is important to know how Yelp came to its results. According to Yelp:
To create Yelp's Top 100 US Restaurants list, we first reached out to Yelpers for their favorite dining spots. Then, we ranked each by total number of submissions, ratings, reviews, and geographic representation, among other factors.
Which Indiana Restaurants Made the List?
When you think about how many restaurants we have here in the United States, landing anywhere on this list is a huge accomplishment. That being said, the first Indiana restaurant on Yelp's Top 100 US Restaurants in 2023 list comes in at number 37. It's Vida, located in Indianapolis.
Here's what Yelp says about Vida:
Vida is part of the Cunningham Restaurant Group's lineup of more than a dozen spots across Indiana, Kentucky and Ohio, including Livery (#91 on this list). Dishes change frequently according to what's on offer from local farms, but the commitment to freshness doesn't stop—standouts such as beef tartare and ribeye are often adorned with homegrown herbs and greens plucked straight from the kitchen's hydroponic grow wall. To indulge in the best of what the night has to offer, many reviewers recommend opting for the "

thoughtfully curated

" chef's-choice tasting menu.
As you might have saw in the section above, the only other Indiana restaurant on this list was Livery-Indianapolis, coming in at number 91.
Yelp says:
This "luxurious" and "romantic" spot specializing in Latin American-inspired small plates was named after the stables where local police once boarded their horses. Now, the historic space features a "dreamy, moody glow," making it the perfect setting for couples or groups to dine on dishes made from produce grown in the restaurant's hydroponic greenhouse. 
Fan favorites include six types of empanadas and the Brussels with cotija cheese and serrano hot sauce—which "causes a stir" when it rotates off the menu," says marketing director Carissa Newton, noting that the chef often accommodates requests. Top off your dinner with a nightcap from Livery's wide selection of tequilas and specialty cocktails.
Now, I know there are some reading this that might be saying "what about (insert restaurant name)?!" Trust me, I could name a few restaurants in Indiana that I feel should be a part of this list, but they weren't. At the end of the day, we all like what we like, so really, you could say that this list is subjective. Just because your favorite restaurant in Indiana didn't make the top 100 list, doesn't mean that it isn't good. No need to be upset about it. In fact, I would love to know what restaurants you feel are the best in Indiana so that I can try them out myself whenever I'm in that area!
25 Most Common Last Names in Indiana
Do you share the same last name as thousands of your fellow Hoosiers?
Forebears
looked at hundreds of names across the state and ranked them based on the number of people who have them. Take a look at the list below to see where (or if) your last name is on the list.
16 Indiana Towns with Dirty-Sounding Names
A majority of these towns were given their names in the mid-to-late 1800s as settlers making their way across the country found unclaimed plots of land and decided to make them their own. While I imagine they thought the names they came up with were innocent, and perhaps a tribute to something in their lives, pop culture has warped our minds to the point since then that we can't help but think of something about the town that was never intended by its founders. Take a look at this list. I guarantee there's at least one name that will make you chuckle.
Haunted Places in Indiana That You Can Visit
This map highlights haunted places in Indiana that you can visit! Here's a few of the places you can check out.