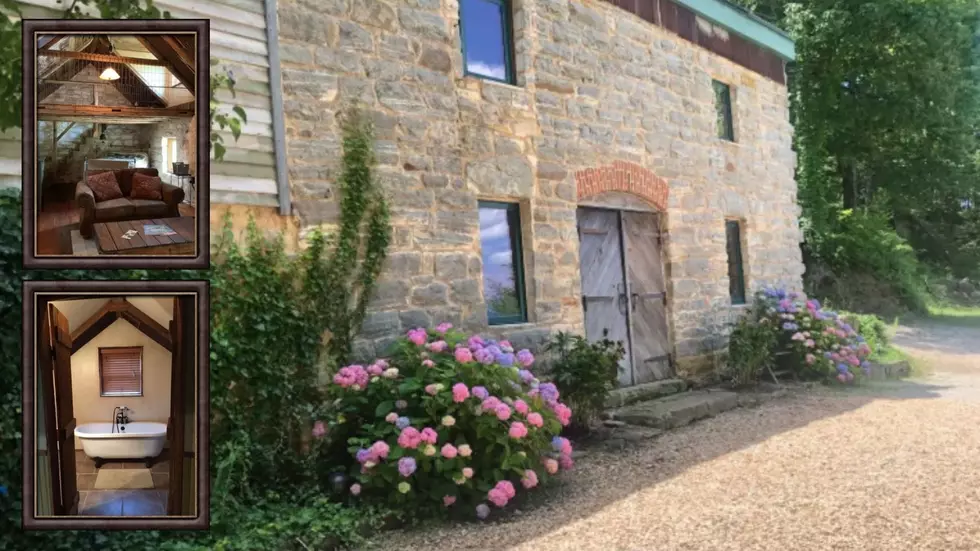 See Inside a 170 Year-Old Stone Barn in Hermann, Missouri
Barn hosted by Lisa, Airbnb/Canva
Missouri has such a rich history and that includes many of its buildings. One great example is a stone barn in Hermann, Missouri that dates back 170 years. There are pictures shared that allows you to see what's inside.
I found The Barn at Schon Stein Farm & Vineyard on Airbnb and it's one of the more unique places in Missouri that I've ever seen. This Hermann structure is a stone barn that has some modern touches inside. Here's how Lisa the host describes it:
Nestled in the hills & bluffs above Hermann, the Stone Barn at Schon Stein Farm & Vineyards takes you back in time in this historic wine press barn that has been carefully restored and decorated with primitive period antiques...situated on 20 acres in the bluffs with beautiful views! The town of Hermann is minutes away down the hill, and trolley pick up is available.
This is truly a one-of-a-kind place.
See Inside a 170 Year-Old Stone Barn in Hermann, Missouri
It looks like this is very much an in-demand place if you're daydreaming of staying there. Almost all of the reviews are 5 stars out of 5 and when you consider the uniqueness of the stone barn, that's no surprise. Lisa the host also gets rave reviews for her courtesy. The cost to stay there as of this writing is $250 per night.
I have many friends who regularly travel to Hermann for fun things to do and I have no doubt this place will be on their list when they need a place to stay for a night...if they can find a day that isn't already booked. That's a big IF.
See What It's Like Inside a Missouri 'Barndominium'
Epic Missouri Airbnb Has a Private Pool, Hot Tub & Nature Trail