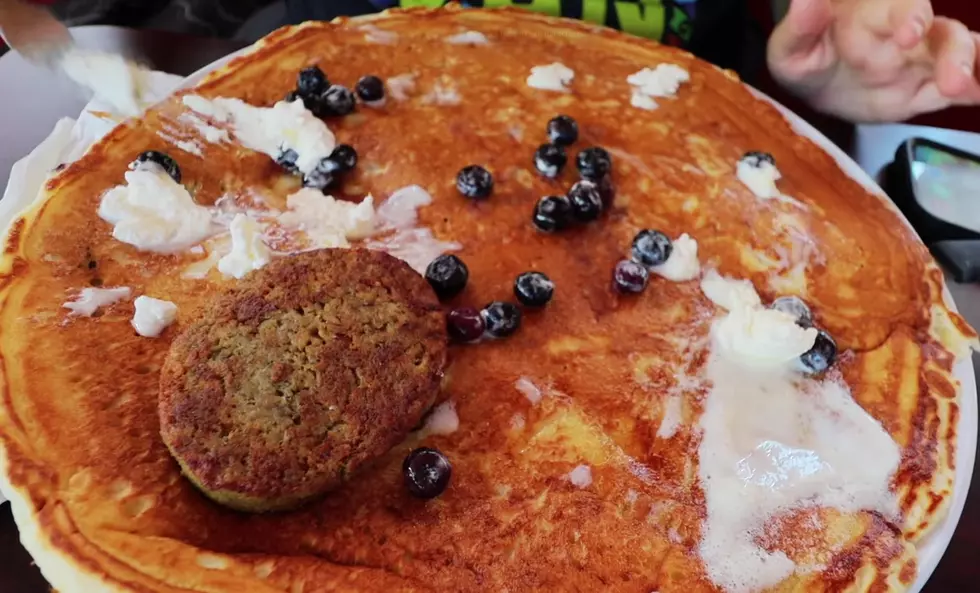 This Missouri Pancake Might Be the Biggest Flapjack Ever
BunnyPlaysHere via YouTube
There are pancakes and there are PANCAKES. This is that second one. It's a Missouri pancake that is so massive it just might be the biggest flapjack ever.
My understanding is that Billy Gail's Restaurant in Branson, Missouri prides itself on big portions. Challenge accepted. That apparently inspired a YouTuber from Texas to road trip and try to consume one of their food challenge pancakes that measures 14 inches across.
The fact that she fit that bad boy into a pizza box shows you how large these Missouri pancakes are.
For fun, I decided to find out what really is the largest pancake in the world. As it turns out, the 14 inch pancake from Billy Gail's in Branson isn't even close to the world's biggest. According to the BBC, the record is held by a place in the UK that had a 49 foot (yes feet, not inches) pancake that was an inch thick and weighed 3 tons. The Guinness Book of World Records backs up that claim. Moral of that story? Never challenge a British person to a pancake eating contest.
Roadside America says the American pancake record is 27 feet and weighed 10 tons. Somebody please find me a pancake bulldozer. Not too shabby.
Congrats to the lady on her very fine Missouri pancake find. I think my cholesterol count went up just watching her video.
Inside Yadier Molina's St. Louis Mansion
Patrick Mahomes Kansas City Home