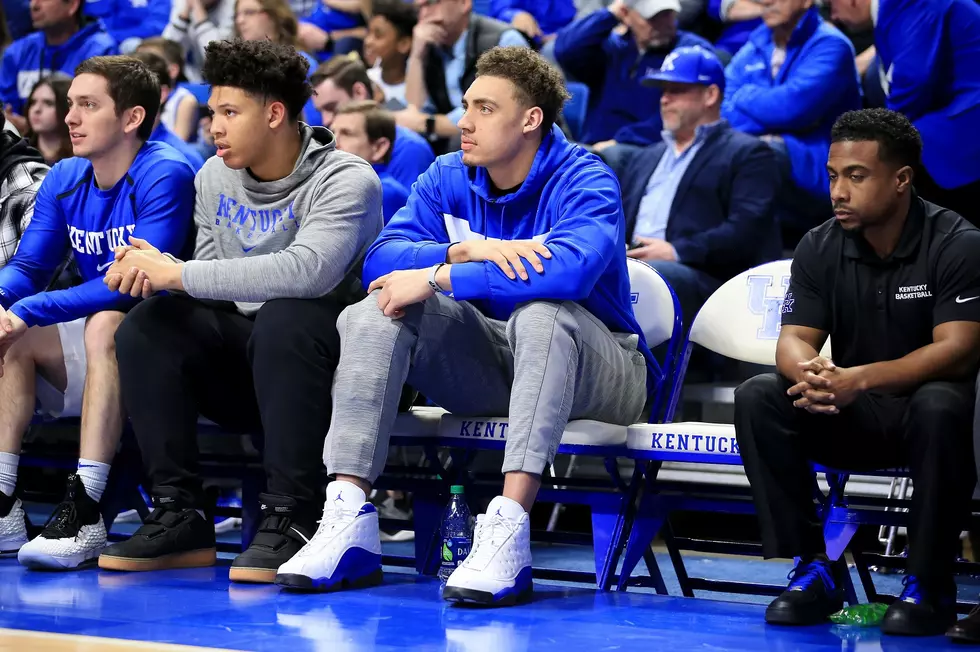 UK Lands 2-Seed in SEC Tournament, Senior Travis' Status Uncertain
Andy Lyons/Getty Images
The Kentucky Wildcats have averaged about seven fewer points WITHOUT senior center Reid Travis than they did WITH him in the line-up. And while his absence has indeed been felt, the 'Cats still have gone 4-1 while he sat on the bench letting a sprained knee heel.
And just how IS that knee? When Travis injured it on February 19th, the thinking was about two weeks for recuperation. But now, UK head coach John Calipari is saying this:
The fifth-year transfer from Stanford is an invaluable component in the Final Four/National Title-contending Wildcats' campaign.
And maybe that's Calipari not getting his hopes up just in case Travis is still unable to contribute when UK opens SEC Tournament play Friday at 6PM.
I've been impressed with the 'Cats in this stretch, even if they did look a bit anemic in Rupp Arena last week against a mediocre Arkansas squad. UK eked out a 70-66 win over the Razorbacks.
And they looked plumb putrid in a 19-point blowout at the hands of the Tennessee Volunteers in Knoxville last Saturday.
But here's the thing. Take out all the scores, and 4-1 is EXACTLY what I expected from UK in this stretch with OR without Reid Travis.
I never thought Kentucky was going to win at Tennessee, even at full strength.
Travis averages 11.6 points per game and the margin was 19. He would've made the 'Cats more competitive, but I believe they still would have lost.
But I'd imagine he will be very necessary in the post-season.
March Madness is here and the SEC Tournament is set.
LSU is the outright regular season conference champion and will be the 1-seed. Tennessee, while sharing a 15-3 record with Kentucky, will be the 3-seed thanks to a tiebreaker.
Yes, with UK at two and the Vols at three, we could see a third game between these SEC powerhouses.
And join us for UK and the winner of Alabama/Ole Miss Friday evening on WBKR!