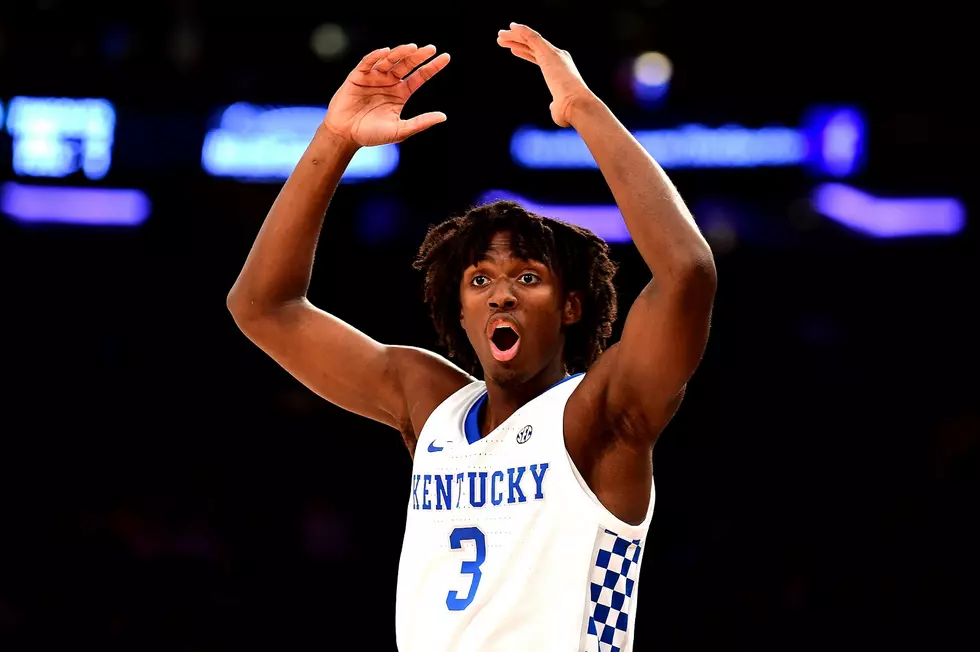 Dad's Text Inspires UK Freshman Maxey's Scintillating Performance
Emilee Chinn/Getty Images
The University of Kentucky basketball tradition is rife with folklore. The Unforgettables, the Untouchables, the Comeback Cats.
And then there are the individual performances that Big Blue Nation "etches" into its oral history, never to be forgotten.
Wildcats fans will never forget Tayshaun Prince's five straight 3-pointers in a win over North Carolina in Rupp Arena nearly 20 years ago.
And they will likely never forget when a UK star was born in, of all places, Madison Square Garden on November 5th, 2019.
The second-ranked 'Cats came away with a 69-62 victory over #1 Michigan State thanks in large part to freshman Tyrese Maxey's extraordinary 26-point masterpiece.
The Spartans had no answer for this 19-year-old Texan who, on a couple of occasions Tuesday night, nailed two triples from, what looked like, at least 25 feet from the basket.
But Maxey wasn't just shooting threes. He was highly effective driving to the basket, forcing Michigan State's experienced roster to swarm him and, often, commit the fouls that would send him to the free-throw line.
So, yes, UK has a new piece of Wildcat folklore. I'll call it "Tyrese Maxey's Opening Night." That phrase will likely always generate a conversation among diehard 'Cats fans.
But what inspired that performance, you may ask? How does a kid who was in high school six months ago blow the figurative roof off the world's most famous basketball arena against the top-ranked team in the country?
Well, how about a text from his dad?
It seems that for the first time in as long as the younger Maxey could remember, his dad had been in the stands for every one of his games.
The elder Maxey was at home recuperating from an illness that was serious enough to keep him from coming to New York.
But that just means he wasn't present PHYSICALLY.
Prior to the game, Tyrone Maxey sent his son, Tyrese, a text that read "LND."
That stands for "leave no doubt."
And the next thing you know, Tyrese was doing just what I would've done...exactly what his dad told him to do.
Scoring 26 points and becoming a permanent piece of Kentucky basketball legend.
He reminded us that the rest of the Wildcats shot 12-37, a shade under 30 percent. That ain't good.
However, Metcalf was also quick to point out that the UK defense forced Michigan State into 16 turnovers and 5 of 26 shooting from beyond the three-point line. That's a ghastly 19%.
Maxey shoots the lights out. The rest of the team hunkers down on suffocating defense. And the 'Cats leave the Big Apple with a signature win that will have a season-long shelf life.
As for "Leave No Doubt," if that phrase doesn't have a LIFE-long shelf life in Big Blue Nation, I will be very surprised.