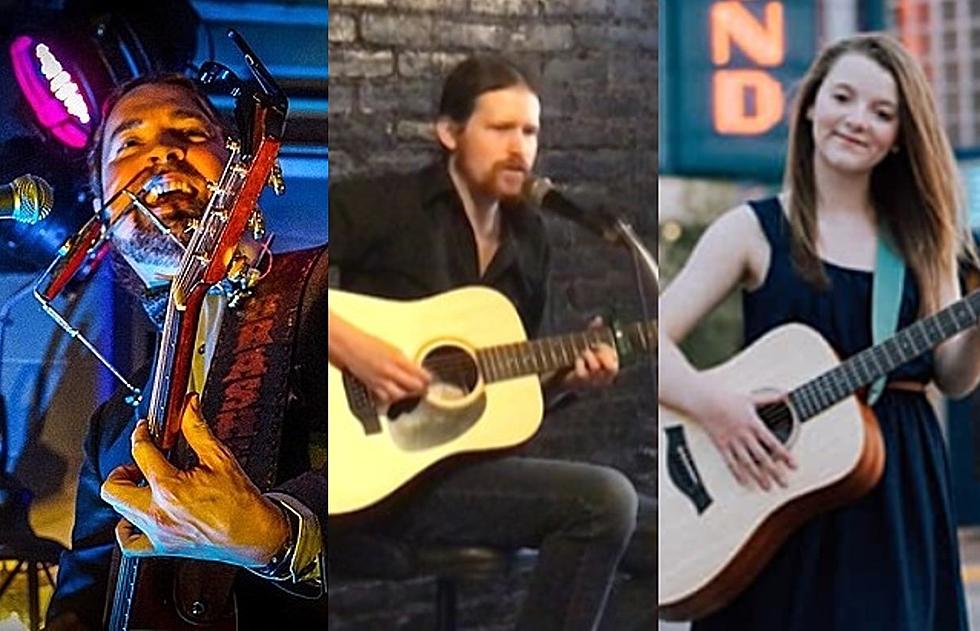 Here's a List of Live Music During the 'Bar-B-Q Block Party'
Kenneth Murray/Joshua/Annabel Whitledge Music
There may not be a beer garden with live music at the 'Bar-B-Q Block Party', but there are many places offering live music up and down the Owensboro Riverfront on Saturday. From Bar Louie, Brasher's Little Nashville, to Ten.O.Six, there's something for everyone to enjoy!
Louie's Spring Fling! with Bar Louie in Downtown Owensboro was the first to step up and offer live music on Saturday, May 8th, 2021. But, now there are many other amazing events to take part in! It's going to be a beautiful day on the Owensboro Riverfront.
Frederica Street will be shut down in front of Bar Louie and a big stage will be set up outside. Set to perform, Josh Stevens, 181 south, and DJ 808 with special guest W!Fi. There will be outdoor seating and an outdoor cash bar for drinks. Music will get started at 1PM and will continue until 11PM on Saturday, May 8th, 2021. $5 pulled pork sandwiches will also be offered and drink specials will available inside and outside of Bar Louie. There will also be a Red & White BBQ Fest Bike Show Motorcycle Cruise-In from 1PM to 5PM. It's FREE to attend the event too! Who's excited to get out and enjoy life? #everyone
Friday After 5 and the Holiday Inn Owensboro Riverfront have teamed up to bring Annabel Whitledge Music and special guest Dakota Hayden Music to the stage during the festival. Annabelle will bring her spunk, sass, and sweet sounds to the Owensboro Riverfront. Dakota is a beautiful songwriter, performer and always puts on a great show. While you're enjoying great music, try the Ole South Barbeque brisket burger at Burger Theory Owensboro Riverfront. This is going to be an amazing event from 6PM - 9PM on the Holiday Inn Owensboro Riverfront Stage with Friday After 5! 
Next up is the BBQ Fest Celebration and Membership Day with Andy Brasher. Although Brasher's Little Nashville music venue is still under construction, they still want to bring some fun and live music to Downtown Owensboro. Andy Brasher will be performing live music at the future location which is, 123 W 2nd Street. The event will take place from 11AM to 6PM. Andy is so amazing and what a great addition to the Bar-B-Q Block Party!
And, while you're there, be sure to sign up for Brasher's Little Nashville Annual Membership and the BLN Roadtrip to Nashville.
Mile Wide Beer Co will be showing off its new brewery with a big ole' party! They'll host the Bar-B-Q Block Party w/ Live Music by Josh Orion, A.S. Coomer & More! Pop-Up w/ Bethany's $5 Bling starting at 6PM. Doors open at 2PM. Grab some delicious Barb-B-Q, listen to some great music, and enjoy the riverfront!
Lure Seafood and Grill is having a BBQ BLOCK PARTY of their own and everyone is invited! Great food, drinks, and live music from Monte Skelton starting at 7PM. The party gets started at 11AM with the beautiful Owensboro Riverfront as the backdrop!
Starting at 8PM you can enjoy Tailgate @ VFW Post 696. It's free to attend this event on the Owensboro Riverfront. Everyone at the VFW Post 696 is so nice and if the rain stays away, there's plenty of outdoor seating too!
Ten.O.Six presents Blackford Creek gets underway at 9PM. They'll perform indoors so rain won't matter! If you want to get rowdy with the good ole' boys from Blackford Creek, then this is your event. They are amazing and so much fun! Come out to Ten.O.Six to see for yourself at 1006 E 4th St.
There will also be the official Grand Opening of Banky's Sports Bar & Grill. The celebration happens from 9PM to 2AM at 1108 W 9th St. in Downtown Owensboro. Great music and a great place to get a late-night snack to end your Bar-B-Q Block Party festivities!
As we reported earlier in the week the District Mocktail/Cocktail Crawl will be underway during the festival as well. Grab your friends, because all of your locally-loved hot spots to grab a drink will be on display up and down the Owensboro Riverfront.
You can experience many unique drinks and grab a bite to eat at many of your favorite restaurants and bars. The District Mocktail/Cocktail Crawl will be held from May 7th thru May 21st, 2021. Featured during the event in Downtown Owensboro will be a selection of mocktails and cocktails at a price ranging from $2.50-$10.
Get a list of participating restaurants and bars, along with the official map and details HERE.
I think this is everywhere in Downtown Owensboro to listen to live music at Owensboro's 'Bar-B-Q Block Party'. If anyone is left off, please just email Barb@wbkr.com and I'll get them added. AND....we'll see you on the riverfront tomorrow!
What Are the Signature Drinks From Every State?